Add Web Comics to Your Facebook Profile
By Hervé St-Louis
June 11, 2008 - 22:52
Through notification from Facebook, I've learned that a friend of mine has added the Profile Comics application that allows Web comics to be posted in your Facebook profile as they are updated by contributing cartoonists. So far, not much is known about Profile Comics but here's what I found.



Cigarro - A Web comics published on Comic Profile
Profile Comics is published by a young developer called Farz Hemmati. He lives in California and graduated from high school in 2007. He has been involved in a few collaborative Web projects as a developer. His company fahhem.com, which is a contraction of his name, also owns a Web domain called FacebookComics.com. The project seems to have begun in July 2007.
From random comments picked up, it seems that Hemmati would like to monetize Profile Comics and post advertising next to the comic strips published through his Facebook application. Cartoonists must submit their comic strips to Profile Comics who will add them manually. These will then be sent through Facebook to the multiple subscribers of the service. There doesn't seem to be any automatic ways to upload a comic strip to Profile Comics through Facebook or through another Web site at this time. Creators must send their comic strips directly to Hemmati through email.
At the time of writing, there were 104 comic strips available through Profile Comics. It seems like a good way for cartoonists to promote their Web comics and for comic book readers to customize their Facebook account with something from their favourite hobby.
However, Profile Comics is not yet ready to be taken seriously. First, its developer lacks any foreclosure about his company and transparent information about who he is. I'm not sure I want to allow my Facebook account to be accessed by a teenager trough an application.
Comic strips are organized alphabetically and not as themes and genres. That means a Facebook user has to go through all of them before he knows whether he will like them or not. That's a major downturn, given that there are no previews available before the application is installed in one's Facebook account.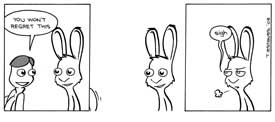 Cigarro - A Web comics published on Comic Profile
Yet, the idea of pushing comic strips directly into a Facebook account is a good one and I'm hoping that Hemmati will further develop his application and that smart comic book publishers will consider this alternative way of informing their subscribers about their comic books.
Last Updated: January 24, 2022 - 11:00