Comics / Comic Reviews / More Comics
Athena #1
By Andy Frisk
September 16, 2009 - 19:15
Athena, the Ancient Greek Goddess, is discovered lying naked and unconscious in a field of grass near the Parthenon in Greece. She has no memory of who she is, except for very slight memory 'bits from all those centuries ago..' The other gods watching over her, Zeus being one of them presumably, give her a memory and a certain set of human abilities that she puts to use as an investigator for a New York City District Attorney. Her choice of profession and residence makes sense. Athena is the legendary goddess of wisdom and justice, among other things, and New York City is a defacto capital of the neoclassical world which is in daily need of those who serve and, like Athena, embody justice. When Athena is threatened, as the result of an investigation she is undertaking for the DA, the gods grant her more than just the gift of larger portions of the memory of exactly who she is, and a new super-hero, with a classical look is born.


While
Athena
doesn't show early signs of developing into a deep, literary trip through the Ancient Greek tragedies and myths that DC Comics' Vertigo series
Greek Street
is shaping up to be, it nonetheless looks like it might be a fun and relatively intelligent read, with the potential for some good stories as well as some super powered heroics. Murray's depiction of the goddess of wisdom and justice (along with war, the arts, industry, and skill) as an investigator for a NYC DA is a pretty smart idea that has a great deal of interesting potentialities. Since a large part of of our society, laws, institutions, and governing bodies are modeled after the classical worlds of Greece and Rome, and more closely the neoclassical world of the Renaissance, Athena might turn out to be a sort of hybrid between
Law and Order
and
Wonder Woman
. Some of us can only hope. Maybe Athena will breeze through law school at some point and become an Assistant DA or something. Either way, the story of a classical goddess in a neoclassical world is a good idea.
Artistically, the book debuts very well with Neves and Renaud doing an excellent job of recreating classical Greek architecture, the ruins of classical Greek architecture, and the world of modern architecture. Their work is detailed, proportioned, and like most mainstream sequential artists, they create physically perfect looking humans, gods, and goddesses. Athena herself is particularly well drawn. She's tall, blonde, busty, and beautiful. Well, this is a book about a goddess, who just so happens to be the perfect example of the female form!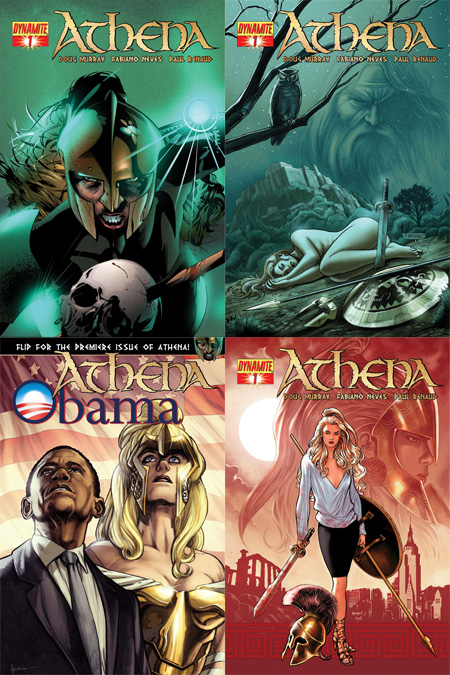 Overall and again, the book shows promise. We learn that Athena isn't the only god or goddess from the Greek Pantheon to be on Earth, and we're treated to an interpretation and reinvention of the story of Paris and the Golden Apple, so there's definitely a nod to the ancient stories. These stories are universal in appeal and ideal, and will always be relevant to the human experience, but the extent that Murray decides to use them and incorporate them and their messages into Athena remains to be seen. Nevertheless, Dynamite and Murray might just have the making of a hit on their hands.
It is also worth mentioning, that issue #1 is a flip book with a short story tacked on where Athena meets President Obama. Obama is everywhere in comics these days, and his appearance is starting to get a bit trite, and overexposed. Placing him next to, and on equal standing with the goddess of wisdom and justice is a nice image though, and will undoubtedly, but unnecessarily, increase interest in this book.
Rating: 8.5 /10
Last Updated: January 24, 2022 - 11:00