Comics / Comic Reviews / DC Comics
Army@Love: The Art of War #6
By Zak Edwards
January 16, 2009 - 14:47
Army@Love is an intimidating book to review. It's incredibly compact, with an excessive amount of development within each issue to the point where I feel lost much more often than not. But despite being constantly reminded writer/artist Rick Veitch is about twenty steps ahead of me and certainly smarter than me, I enjoy every issue I have read of this series. But now the issue with the most dreaded word in comics has come out, the finale. I'm curious to see if this series is finished or taking another hiatus like when it completed its first 'season.' But is this is indeed the end of this absurd satire, then it will be tough to fill the void. Army@Love was not only a great series that demanded much of its readers, it was also a wonderful commentary on our society, commercialism, and, of course, the Western world's War on Terror. A note to those with little ones, Army@Love is filled with nudity, sex, profanity, and many other wonderful things you might want to keep away from the aforementioned.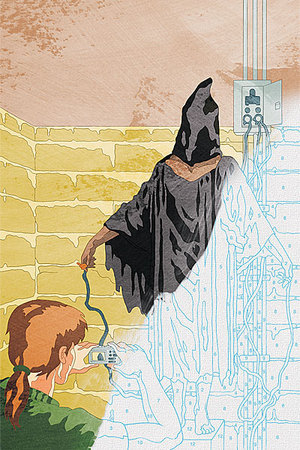 When Army@Love first came out, it was heralded as a return to satire, and I was hesitant at this. Satire is a world thrown around much too often these days, it has almost become a word advertisers like to use to make their product appear of higher humour without actually delivering. But Army@Love, with all its absurdity and density, actually delivers as a satire which leaves literally nothing to be sacred. From making fun of contemporary recruitment drives, corporate sponsorships, to the quickly devoured and forgotten terrible one-hit wonders and beyond, Army@Love tears it all to shreds. If you want to laugh and think about the world today, go to this series and start reading. Be prepared to be confused and lost, the series is not easy to comprehend (at least on a month to month basis), but it is definitely worth it.
This issue is particular is strange, deconstructing, quite literally, everything that has happened and turns the crazy impossibility of this series up to eleven. Everything wraps up nicely, conclusions are drawn and are satisfying, but Veitch's endeavours demands a second reading of the entire series, something I will have to do when I have the time. I must say, I have found the series' departure from the commentary on the war fairly disappointing as it has begun to tend towards the absurd more than satire. But Veitch has taken everything back to what it was through physical manifestations of Big Finger (who represents an overall control of pseudo-quantum dynamics), and so if he returns, the series would be back to its origins. The conclusion of the series is satisfactory, every character is given closure. I am lost and as such I will be going back and rereading to truly enjoy the material.
Veitch's art is expressive and excessively busy, adding to the general obscurity of the text. His characters' emotions are exaggerated as well, which only reinforces the absurdity of the series. Veitch has been drawing the series since its conception and thinking of another artist who could draw the series is impossible. His art reinforces all of his points, the exaggerated characteristics of his cast add to its absurdity. The decal quality of the corporate sponsorships on almost every military vehicle reinforces many of his arguments. In fact, this attention to detail in excess reminds me of Transmetropolitan, where artist Darick Robertson also busied every panel with multiple amounts of media and advertisements to reinforce Warren Ellis' commentaries on commercialism and consumerism. Overall, Veitch's own art works with his script.
8.5/10 Veitch's series will be sorely missed, but Army@Love demands multiple readings
Last Updated: January 24, 2022 - 11:00