Comics / Comic Reviews / DC Comics
American Vampire #1
By Andy Frisk
March 19, 2010 - 23:51
Two interconnected stories by two talented writers kicks off DC Comics' latest Vertigo vampire series, American Vampire. The first tale, penned by Scott Snyder, stars Pearl Jones, a young actress who finally seems to get a break in 1925 Hollywood only to end up facing an unreal nightmare on the road to potential fame. The second tale, penned by the modern master of the macabre, Stephen King, stars Skinner Sweet, an old west outlaw with a penchant for mayhem and murder who encounters more than he bargains for during a failed jail-train break. Both characters represent what promises to be a new breed of vampire, and vampire storytelling, the American Vampire.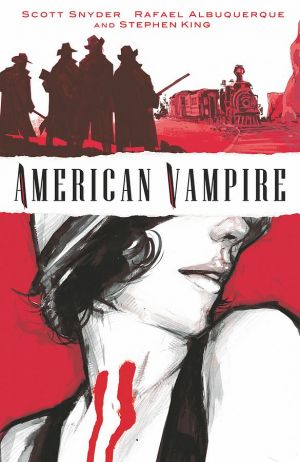 Vampire stories, as we all know, can range from the superficially silly (Twilight) to the potentially profound (Vertigo's Blood and Water). American Vampire, judging from its solid debut issue, looks to ascend beyond the silly and potentially profound. It just might be an entirely new breed of vampire tale, much like Pearl and Skinner promise to represent a new breed of vampire. For starters, there's very little bite (literally) in the two tales. Modern vampire stories too often rely upon the sensational aspects of vampire storytelling. Bloody fangs and nude women throwing themselves at their vampire lovers (ala True Blood-even if that series is pretty good most of the time), seem to dominate most takes on the nocturnal bloodsuckers. American Vampire opts for character development and story over gratuitous bloodletting to its benefit.
The other aspect that makes American Vampire a potentially winning series with a unique (and therefore worthy of following) take on vampires and vampirism, is that it truly looks to make a break with the vampire tales of the past by focusing on two truly new, independent of "old world" ties, and solely American vampires. What other characters could be more archetypically American than a wannabe starlet and a Wild West cowboy outlaw? Snyder and King can definitely concoct some seriously philosophic and metaphoric tales with these two. After all, aren't Americans truly still the new breed of social and political animal as compared to their European counterparts? Mind you, there's no assertion that Americans are particularly or specifically superior, just different, and powerfully so. Herein, is what Snyder and King look to get into with American Vampire. Pearl and Skinner might be turned by old vampire blood, but they are a product of an unfettered New World and its dominating nation. They're bound to be different in a new and freer way.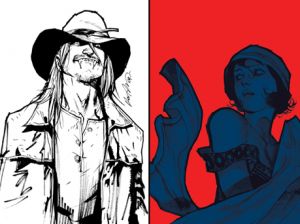 This series might showcase two very talented writers, but needs only one very talented artist, Rafael Albuquerque to pencil and ink the opening tale of this new breed of vampire and vampire story. His grainy noir-ish style suits both 1925 Los Angeles and 1880 Colorado perfectly. His unfinished background buildings of Los Angeles create the illusion of LA smog without actually having to pencil it in. His take on the Wild West is just as strong. Skinner's jail train break has the choreography of a classic western film. The addition of McCaig's considerable coloring talents to Albuquerque's pencils completes the artistic tour de force. McCaig colors 1925 LA and its dark and sinister Hollywood insider clubs with the same strength of shading and silhouette that he recreates the blaze of the western sun shining on a mountain pass.
Does Vertigo have another hit on its hands? It certainly appears so. American Vampire is as unique as its title suggests. This is a new breed of vampire tale that is not to be missed.
Rating: 8 /10
Last Updated: August 31, 2023 - 08:12