Comics / Spotlight / Progressive Panels
Action Comics #904 (The Death of the GenX Superman)

By Andy Frisk
August 24, 2011 - 17:07
"…because people know who the real Superman is. It's this decent guy with the silly smile, who's sometimes a little old fashioned, who lives a whole human life. Who fell in love and got married. Clark, coming from Krypton didn't make you Superman…Martha and Jonathan did. And thanks to your doubts and your fears and your absolute refusal to be above anyone—you do the proud every day."


Lois Lane to her husband Clark Kent
Action Comics #904
(dialogue by Paul Cornell)

"We wanted to have that sense of isolation that might come with being an alien among men The two choices that were made, with both his parents being dead and not being married, isolated Clark a little bit more, so that he really had to do more exploration about mankind. There wasn't that one strong human tether that he was bonding with and learning through."
Dan DiDio on the DCnU Superman
via newsarama.com

He doesn't care about the law, he's all about justice. If the law gets in his way, then he'll break the law quite happily. That really informed what we're doing now. The hero that worked in the Depression was the champion of the poor, and that could work again in our current context. I was bringing him back to those roots, a Superman who can be hurt, who can be messed up, who can bleed. He struggles to do what he does, but at the same time, he's not a figure of the law, he's not a patriot or a dad figure. It's taking him back to the idea of just having superpowers and a t-shirt and jeans.
Grant Morrison on his rehashed Superman of
Action Comics
#1 (2011)
via io9.com
Will the real Superman please stand up? Maybe there is no "real" Superman. No. No maybes. There really is no "real Superman." Paul Cornell, Dan DiDio, and Grant Morrison are just a scant few amongst the many, many artists and writers who have interpreted Superman over the years. Out of the three listed above though, which one feels like Superman to you? Do you relate to the Superman of 1986-2011 described by Lois (via Cornell)? Do you relate to a rehashed, Marvel Mutant-like themed Superman that DiDio is thrusting upon the reading public? Perhaps Morrison's rehash of the Great Depression era, socialistic "champion of the oppressed" Superman is the one you relate to? We did just live through the "Great Recession," which was nothing like the Great Depression for most. The angsty, isolated, and frankly immature and adolescent sounding Superman of DiDio's vision is the one I least relate to. Been there and done that, back when I was 16. The "Great Recession" Superman of Morrison's would be interesting, if we haven't seen this character before and Morrison (who is great with weird independent stories and comics like his brilliant
The Invisibles
, and crashes and burns mightily with his mainstream superhero faire, like his Batman run) wasn't simply aping the 1930's Superman. It is Cornell's version of the Man of Steel that is most appealing to me, and I suspect most of the readers of my Generation X age. We created and lived through our own little angst ridden, alt-rock, recession era, social revolution and changed the world as a result just as powerfully as the Baby Boomers did in their time. We've grown up though, and while we might still rage against the fascistic tendencies of today's right wing politicians and the crappy music dominating the (internet) radio and pop culture, we are not 16 anymore. Many of us are married, have full time jobs, and engage in our own clandestine superhero inspired activities, like writing for a comic book web site, creating forward thinking blogs, refusing to place ourselves "above anyone," promoting tolerance, and generally messing with the system from the inside, much like the Superman of 1986-2011 did. More importantly, we are the biggest buyers of most of the comics currently printed.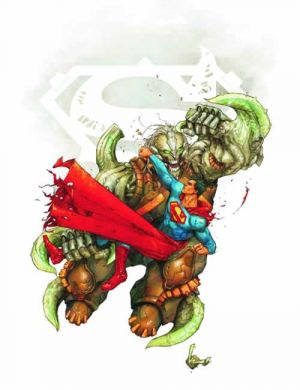 GenX Superman's last battle...
Like "our Superman," the Superman of 1986-2011, we experienced self doubt, and at times questioned our actions, but, like "our Superman," we took it upon ourselves to get out there and find the answers, or create the answers, in a very DIY kind of way. Much like Superman took it upon himself to go out and rediscover the answers on his own in "Grounded." Much like some of us, the Superman of "Grounded" was going through a bit of a midlife crisis of identity, only to rediscover what made him the great man that he has become. He recently lost his father, an experience that this GenX'er has gone through. He at one time had a really bad haircut in the 1990s, like this GenX'er had. The Superman of 1986-2011 finally managed to meet and marry the love of his life, much like this GenX'er, and many others of us, have. He even realistically had a near death experience. Which I fortunately have not had, but that only a realistically portrayed Superman, a GenX Superman, could.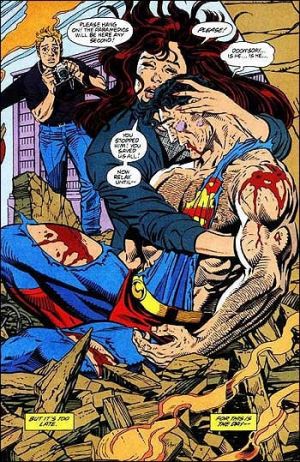 The near death experience...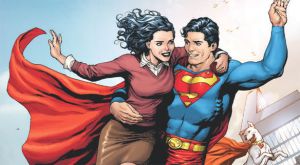 In a mature, adult, and healthy relationship...
The GenX Superman lived through many experiences that no other Superman of any era, past or future, will most likely ever live through. The GenX Superman is unique, much like GenX is. Unfortunately, he's now dead like many of the icons of the GenX era. Icons like Kurt Cobain and Layne Staley. The majority of GenX is still alive and kicking though. Oh, and did I mention? We're the ones buying most of the comic books published right now.
Many of us had bad hair in the 1990s. The GenX Superman was no exception...I still say it isn't a mullet though!
Will an unmarried, angst ridden, twice orphaned, and misunderstood Superman appeal to us? I can't speak for my entire generation. I make no claim to. I simply offer up the fact that I am a dyed in the flannel member of GenX, and I'm seriously concerned that this new Superman will not appeal to a majority of us. He will not to me. Will I read him? Probably. Will I follow him and relate to him as much as I related to the GenX Superman? Probably not.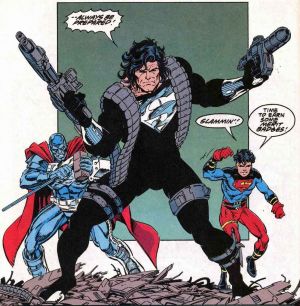 Okay, like us GenX'ers, Superman wasn't all cool all the time...but he was nothing if not unique.
I'm going to miss my generation's Superman. He has died an untimely death. What I fear that DiDio and company are missing is that it's not my generation's Superman's story, marital status, costume, or "human tethers" that make him a profitable and marketable character. It's the quality of stories and successful translation into other medias that make Superman, as a comic book and a property, profitable. Most of all though, it's the character's ability to relate to his largest group of readers and buyers that makes him not only profitable, but relevant.
Last Updated: February 5, 2023 - 09:06