VIZ Media Announces "Weekly Shonen Jump" Newsstand App
By The Editor
April 3, 2013 - 10:22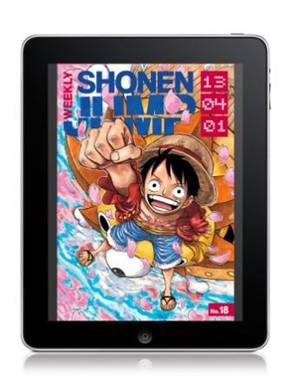 Shonen Jump iPad image - One Piece
VIZ MEDIA REACHES NEW MILESTONE WITH WEEKLY SHONEN JUMP iPAD NEWSSTAND APP DEBUT
Leader In Digital Manga Distribution Expands Access To North America's Popular Weekly Digital Manga Anthology Featuring The Latest Chapters Released The Same Day As Japan
VIZ Media, LLC (VIZ Media), the largest publisher, distributor and licensor of manga and anime in North America, unveils the latest milestone with WEEKLY SHONEN JUMP, the weekly digital serial anthology that features the synchronized latest chapters of a variety of popular manga series debuting on the same day as the Japanese Weekly Shonen Jump magazine counterpart.
Beginning today, readers can take advantage of the new WEEKLY SHONEN JUMP Newsstand App available for the Apple iPad® and iPad® Mini. New issues debut each Monday, and subscriptions are available through the Newsstand App for only $2.99 (U.S. / CAN) a month, with automatic monthly renewals. Apple Newsstand is a built-in application on Apple iOS devices that provides access to digital versions of hundreds of nationally and internationally syndicated newspapers and magazines. WEEKLY SHONEN JUMP Newsstand subscribers may also access their issues through the VIZ Manga digital platform.
"VIZ Media continues to drive innovation in content distribution, and with the new application, WEEKLY SHONEN JUMP now joins other marquee publications that have embraced Apple's Newsstand in recent months." says Gagan Singh, Executive Vice President, Digital Business. "The Newsstand App lays the groundwork for future expansion of the magazine and offers our fans yet another way to access their favorite manga. We are excited with this latest development in WEEKLY SHONEN JUMP's evolution!"
WEEKLY SHONEN JUMP currently features the latest installments of some of the world's most popular manga series including BLEACH, CROSS MANAGE, a new color version of DRAGON BALL, NARUTO, NISEKOI, ONE PIECE, ONE-PUNCH MAN, TORIKO, and WORLD TRIGGER, released each week to North American readers on the same day as their general release in Japan. Monthly series such as BLUE EXORCIST, RUROUNI KENSHIN: RESTORATION and YU-GI-OH! ZEXAL debut on the closest Monday after the Japanese release.
Every digital edition of WEEKLY SHONEN JUMP treats manga fans across North America to the latest chapters of some of the world's most popular manga titles. Annual memberships will continue to be available through vizmanga.com as well as VIZ Manga apps on iOS, Android and Kindle for just $25.99 (USD/CAD). Annual members will get exclusive YU-GI-OH! promotional trading cards throughout the year (cards are not available to iPad Newsstand subscribers), and access to additional magazine content, including creator interviews and insightful promotional videos. Current subscribers can also access their account via the Newsstand App.
For more information on WEEKLY SHONEN JUMP and exclusive subscriber offers, please visit shonenjump.viz.com.
Last Updated: June 23, 2021 - 00:45