VIZ Media Announces "Max Steel" Graphic Novels
By The Editor
January 30, 2013 - 16:48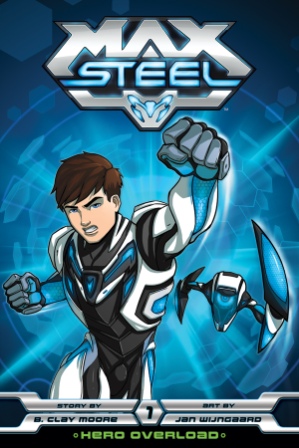 Max Steel Volume 1 cover image
VIZ MEDIA ANNOUNCES 2013 LAUNCH OF MAX STEEL™ ORIGINAL GRAPHIC NOVELS BASED ON NEW KIDS ANIMATED SUPERHERO SERIES
Teenager "Max" Teams With Alien Sidekick "Steel" To Protect Earth From Evil Villains—All While Finishing His Homework!
VIZ Media, LLC (VIZ Media), the largest distributor and licensor of anime and manga in North America, has announced its newest forthcoming original graphic novel series with the launch of MAX STEEL. Scheduled to debut in the Fall of 2013, MAX STEEL will be published under the VIZ Kids imprint, is rated 'A' for All Ages, and will carry an MSRP of $7.99 U.S. / $9.99 CAN.
Developed by Mattel, MAX STEEL is a global boy's entertainment franchise spanning toys, publishing and consumer products. In addition, a new MAX STEEL CGI animated series co-produced with FremantleMedia Enterprises (FME) will premiere in the U.S. on the Disney XD channel on March 25, 2013.
Max Steel is the ultimate aspirational teen hero with a secret! The story revolves around the trials and tribulations of a teenaged boy named Maxwell McGrath™ and his out-of-this world alien companion, Steel. Both have super strengths and powers, Max with Turbo energy and Steel with alien intellect. Steel gives Maxwell the ability to harness his power while merging his own to create one unified super force, Max Steel. When they combine forces to create Max Steel, the ultimate superhero is unleashed- unlocking their inner heroes.
"MAX STEEL is a fun and action-packed adventure that we look forward to launching this year," says Beth Kawasaki, Senior Editorial Director, VIZ Kids. "Max and his sidekick, Steel, embark on all sorts of adventures as they battle evil forces and monstrous villains while balancing school, first dates and homework. Our latest original graphic novel property will add an exciting new dimension to the MAX STEEL franchise. Max and Steel will soon discover that facing challenges together is always better than facing them alone and the power of two is always greater than the power of one!"
The new original graphic novel series from VIZ Media and the forthcoming animated series launches the MAX STEEL storyline with exciting characters, villains and a superhero for today's tech forward kid. For more information on MAX STEEL or other VIZ Kids titles, please visit http://www.vizkids.com.
Last Updated: May 19, 2020 - 12:25