Slam Dunk: Volume 6
By Leroy Douresseaux
October 4, 2009 - 13:23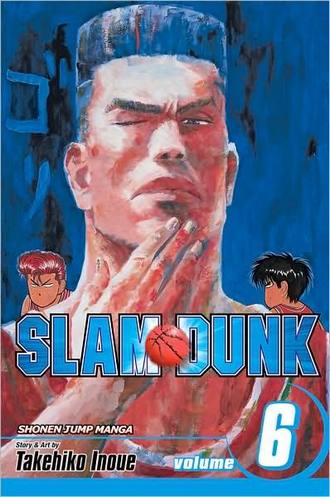 Slam Dunk Volume 6 cover image is courtesy of barnesandnoble.com.
Rated "T" for "Teen"
The Shohoku Prefecture High School men's basketball team has the dedication and discipline to be the best. This is the last year the team can make its Captain and center, Takenori Akagi's dream of reaching the finals come true. However, the arrival of two first year players can make this dream come true or ruin this special season. The wild and undisciplined Hanamichi Sakuragi wants to be a star, but hates to practice, and basketball prodigy Kaede Rukawa is too aloof for his own good.
In Slam Dunk, Vol. 6 (entitled Nothing to Lose), the much-anticipated, preseason practice game between Shohoku High and Ryonan High is an old-fashioned barn-burner (to use hoops parlance), and its shocking conclusion leaves both teams and the spectators breathless. But even more shocking is the return of another prodigy to the Shohoku High team, the second year problem child, Ryota Miyagi.
[This volume's "Slam Dunk Overtime" NBA player profile features Miami Heat guard and Olympic gold medalist, Dwayne Wade.]
THE LOWDOWN: Like a great basketball game, Slam Dunk ebbs and flows. Sometimes this narrative is slow, and sometimes it races at a breakneck speed. Regardless of the pace, nearly every page has something worthy of note or attention-grabbing. It is a testament to creator Takehiko Inoue's skill as a storyteller that this high school sports comedy that is Slam Dunk engages with both its action and its drama. Inoue's ability to present surprising twists and turns (in this volume, the return of Ryota Miyagi) captures the spontaneity of life.
POSSIBLE AUDIENCE: Lovers of both great manga and great basketball will want Slam Dunk.
A-
Last Updated: June 23, 2021 - 00:45