Who Killed Kurt Cobain? comics review
By Leroy Douresseaux
November 17, 2016 - 21:35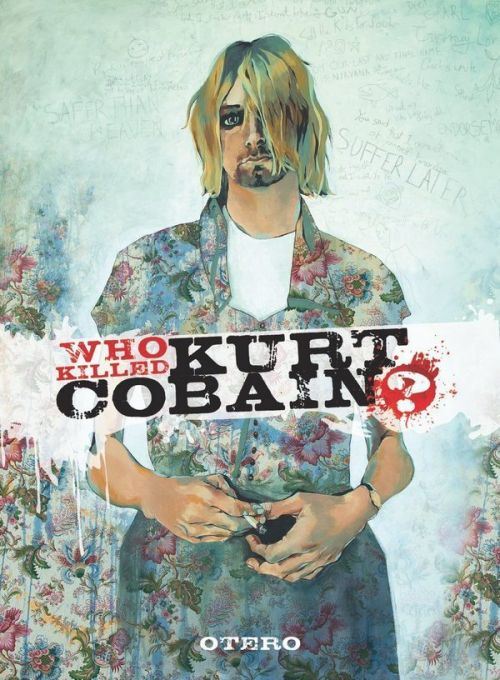 Who Killed Kurt Cobain? cover image
IDW Publishing recently published a new hardcover, full-color graphic novel, entitled
Who Killed Kurt Cobain?: The Story of Boddah
. This is an English language release of the French graphic novel,
Le Roman de Boddah
, written and drawn by
Nicolas Otero
and published earlier this year by Éditions Glénat. Otero's graphic novel is a comic book adaptation of the French novel,
Le Roman de Boddah
(2013), by author
Héloise Guay de Bellissen
.
Who Killed Kurt Cobain? is a work of fiction that recounts real-life events from the life of Kurt Cobain. For those who don't know, Cobain was the lead singer and songwriter for the rock band, Nirvana. This musical trio exploded onto the American music scene in late 1991 with the album,
Nevermind
. Less than two and a half years later, Cobain committed suicide in April 1994. [Dave Grohl, the founder of the Grammy-winning rock band, Foo Fighters, was Nirvana's drummer]
Cobain allegedly had an imaginary friend named "Boddah," to whom he supposedly addressed a suicide note. In Who Killed Kurt Cobain?, the readers see the rise and fall and the highs and lows of Kurt Cobain through the eyes of Boddah. Cobain becomes modern rock's greatest icon in a journey that begins in the dark clubs of Seattle before rocketing the young musician onto the world stage. The journey to rock immortality then plummets through a torrent of drug abuse; a dysfunctional marriage to fellow musician, Courtney Love; and self-loathing and depression before the final stop, self-destruction and suicide.
THE LOWDOWN:
Who killed Kurt Cobain? Unless Perry Mason knows something else, then, the answer is Kurt Cobain. I have not read Heloise Guay de Bellissen's novel upon which this comic book is based (nor do I plan to), so I will focus on what I think Nicolas Otero attempts to do in the graphic novel, Who Killed Kurt Cobain?
It seems as if Otero tries to fabricate a time line of events – what happened in Cobain's life – and then presents them in a murky, impressionistic haze to reflect the fictional Cobain's state of mind. I think Otero also tries to fabricate Cobain's interior life – his thoughts, creativity, imagination, delusions, illusions, etc, which he also presents in a murky, impressionistic haze. The narrative is shocking and even confrontational, but the meaning or purpose of the series of events depicted is oblique.
Who Killed Kurt Cobain? I don't care. I hate to go hard on this graphic novel, especially because I am reviewing a copy IDW Publishing generously sent me. I try not to bum-rush or be too harsh on books I receive as review copies, but I am not really interested in Who Killed Kurt Cobain?, the graphic novel or the real-life question.
I was and still am a huge fan of Nirvana and Kurt Cobain the musician and singer-songwriter. I don't remember the date, but sometime in or around September 1991, an employee at Paradise Records (which has been closed for almost two decades) in Baton Rouge, LA, just off the northern side of the campus of Louisiana State University, recommended Nevermind to me because I was looking for rock music outside the mainstream. I bought Nevermind and immediately brought it home, and after the first listen, I was a fan.
I was shocked and hurt upon learning of Cobain's death, but whatever went down with his death was and is beyond my control. I loved Nirvana because I thought the music was good – real good, and like Paul McCartney, I don't just like genres of music, I like good music.
Who Killed Kurt Cobain? is not a bad graphic novel. I suspect some people find it quite intriguing; otherwise, IDW would never have published a snazzy hardcover, full-color edition of it. In this work, Nicolas Otero is ambitious and thoughtful. This work just ain't for me... not anymore.
I READS YOU RECOMMENDS:
There are readers who want comic books about real-life rock musicians or ones that feature fictional versions of them, and
Who Killed Kurt Cobain?
may be something they want to read.
Last Updated: January 24, 2022 - 11:00