Black Cat: Volume 19
By Leroy Douresseaux
February 19, 2009 - 18:41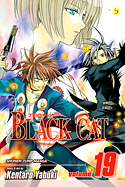 Black Cat 19 cover image
Rated "T+" for "Older Teen"
Train Heartnet, AKA "Black Cat," gave up his life as a ruthless assassin for the secret Chronos organization. With his partner, Sven Vollfied, a fellow "sweeper" (bounty hunter), the thief-for-hire Rinslet Walker, and Eve, a living weapon created in a nanotech lab, Train lives life on his own terms as a sweeper. Train is also seeking vengeance against Creed Diskenth, the villain that killed his dear friend, Saya Minatsuki.
In Black Cat, Vol. 19 (As a Sweeper), Train begins his final showdown with Creed, but not before the Chrono Numbers (of which Train was once a member) get the first shot. However, Chrono Number I, Sephiria Arks, discovers that Creed is nearly impossible to defeat, having become nearly indestructible and declaring himself a god. Meanwhile, Sven and Eve take on The Kiseitai-the Demon Star Force, Creed's nanotech-enhanced super warriors. In a bonus story, readers learn how Sven met Train.
THE LOWDOWN: Indicating to readers that a particular manga title is a shonen (boys' comics) title may mean little or nothing to anyone besides the audience at which shonen manga are aimed. So I'll describe Black Cat in a way that is familiar to North American comic book readers. Black Cat is a superhero comic book. When I first heard of it, the description of the lead character alone suggested (to me, at least) that this was probably a kind of shoot 'em up/action title like Marvel Comics' The Punisher. After reading Black Cat for the first time, I wasn't sure of what to make of it, but after a few more volumes, Vol. 19, in particular, I can safely write that Black Cat is a superhero comic book masquerading as a manga. Imagine Warren Ellis' The Authority (DC Comics/Wildstorm) with those classic Chris Claremont-John Byrne X-Men vs. Hellfire Club stories (Marvel Comics), and you have the general idea of this title's mood and its edge-of-your-seat thrills.
POSSIBLE AUDIENCE: Not only will fans of "Shonen Jump" titles enjoy Black Cat, but it's also accessible to superhero comic book fans.
A-
Last Updated: June 23, 2021 - 00:45