Black Cat: Volume 17
By Leroy Douresseaux
Oct 26, 2008 - 19:25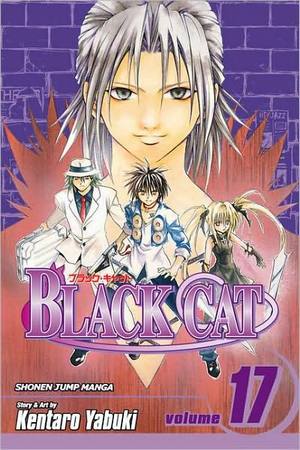 The above cover for Black Cat 17 is courtesy of barnesandnoble.com.
Rated "T+" for "Older Teen"
Train Heartnet was once the "Black Cat," a ruthless assassin for the secret Chronos organization. With his partner, Sven Vollfied, a fellow sweeper, a thief-for-hire named Rinslet Walker, and Eve, a living weapon created in a nanotech lab, Train lives the easy-going life of a "sweeper" or bounty hunter. He is also seeking vengeance against Creed Diskenth, the villain that killed a friend of Train's.
In Black Cat, Vol. 17, Train and members of the Sweeper Alliance, including River Zastory, infiltrate Creed's palatial island hideout, but now, Train is risking his life not for revenge, but for the capture of his nemesis. Inside Creed's mansion, however, The Doctor is about to unleash his ruthless nano-prescription for victory.
THE LOWDOWN: Weird characters, outlandish costumes, bizarre powers, and missions of revenge: Black Cat could very well be an American superhero comic book, but like most popular shounen manga (boys' comics), this Kentaro Yabuki-created manga is not weighed down by history and continuity. It is buoyed by a sparkling imagination that always offers something surprisingly unique every few pages. Such freshness makes reading Black Cat worth turning every page.
POSSIBLE AUDIENCE: As part of VIZ Media's "Shonen Jump" line of manga, Black Cat will please the shounen reader.
B+
Last Updated: Jun 26, 2018 - 9:28