Black Cat: Volume 15
By Leroy Douresseaux
Jun 12, 2008 - 13:46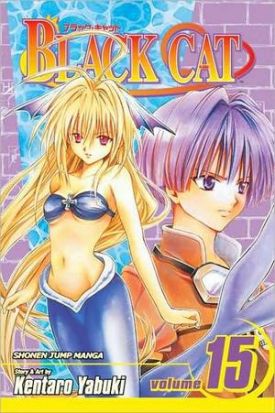 Thanks to barnesandnoble.com for the cover image to Black Cat 15.
Rated "T+" for "Older Teen"
"Eve of Batte"
Train Heartnet lives the easy-going life of a "sweeper" or bounty hunter, but in the past, he was the "Black Cat," an assassin for the secret Chronos organization. With his partner, Sven Vollfied, a fellow sweeper, a thief-for-hire named Rinslet Walker, and Eve, a living weapon created in a nanotech lab, Train is seeking vengeance against Creed Diskenth, a rival who killed a friend of Train's.
In Black Cat, Vol. 15, Train and the Sweepers Alliance take on Creed and his Apostles of the Stars (the organization into which Creed tried to recruit Train). After their boat is attacked, the sweepers spread out and Train and River "Thunderhead" Zastory take on two vicious and powerful Apostles. The main event, however, is between Eve and a teenaged wind elemental, a battle in which Eve begins to show the scope of her powers.
THE LOWDOWN: My first reading of Black Cat (Vol. 10) did not prepare me for how much I would go on to like this manga series. I am absolutely shocked at how much I've come to enjoy this electrifying action adventure. Black Cat has lots of characters with unusual powers and lots of weirdo villains with even weirder powers. This is a fight comic and a superhero comic, just without the masks and capes (and the pompous and ponderous continuity of a Marvel or DC comic book). Also, manga-ka Kentaro Yabuki composes Black Cat's narrative and art in that kind of wide-opened, wide screen style that read so well and looked so good in Warren Ellis' The Authority.
POSSIBLE AUDIENCE: Readers who like the monthly magazine, Shonen Jump, will like this title, which is pitch-perfect for VIZ Media's "Shonen Jump" line.
A-
Last Updated: Jun 26, 2018 - 9:28