Richard Sala's Cat Burglar Black
By Leroy Douresseaux
September 14, 2009 - 19:03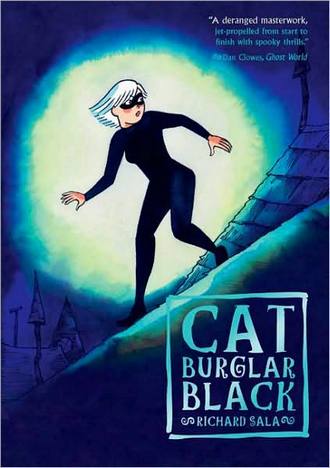 Cat Burglar Black cover image is courtesy of barnesandnoble.com.
Katherine Westree is an orphan. First of all, she prefers to be called "K." K is also a reformed teen cat burglar – that is until she has to don the old-fashioned cat burglar black body suit in the new graphic novel, Cat Burglar Black, from cartoonist Richard Sala.
Her aunt, Vivian Westree-Hopkins, has apparently invited K to visit the boarding school, Bellsong Academy for Girls, where Vivian is dean. When she arrives at Bellsong Academy, K discovers that the school has many mysteries of its own, not least among them is a hidden treasure left behind by its founder, an ancestor of K's. K finds Aunt Vivian gravely ill and bedridden, while an obnoxious and disingenuous headmistress, Mrs. Turtledove, seems to run the school, with the help of a trio of henchmen.
K is the only one who really has a hope of locating the founder's lost treasure, or at least, Mrs. Turtledove believes so. As she resumes her cat-burglaring, now accompanied by three fellow prisoners…err…school chums, K gets closer to discovering Bell Academy's secrets, but only some of them. More questions about her father, Philip Westree, arise, and that makes K wonder if she'll ever have a normal life or if a normal life is really what she wants.
Richard Sala is known for his whimsical spin on gothic storytelling in such publications as his long-running comic book series, Evil Eye (Fantagraphics Books), and the macabre fairy tale, Delphine (Fantagraphics Books/Coconino Press). With Cat Burglar Black, Sala again mixes whimsical and gothic, dressing them in shimmering watercolors, and Voilà!, teen readers have the first Sala book aimed directly at their age group.
Cat Burglar Black is a spooky carnival ride through a haunted house and an eerie landscape, with a spunky heroine in the lead car. Part Huck Finn and part Nancy Drew, K Westree is a modern girl hero – she looks sweet, but she's complicated. Resourceful, smart, and independent, K is everything that only boy heroes are allowed to be; she can be her own rescuer. Anyone familiar with Sala's work will recognize Bellsong Academy as the customarily creepy Sala setting. It comes with something hiding in the shadows or around the corner or in the wall, and the exclamation, Eek!, is this environment's soundtrack.
There is, however, something more, here. K. Westree is so fascinating because she doesn't apologize for her past, and only has minor regrets for the things she's had to do to survive. There is an air of mystery about her. Even if some of the mysteries at the heart of this story are solved, K remains a delightful enigma, not unraveled at story's end. Considering that American comic book creators are generally considered poor at creating great comics for teen readers, especially girls, it is good to see that Richard Sala has no problem creating an excellent graphic novel for girls… and for boys brave enough to follow Cat Burglar Black.
A
Last Updated: August 31, 2023 - 08:12