Black Cat: Volume 14
By Leroy Douresseaux
Apr 30, 2008 - 22:18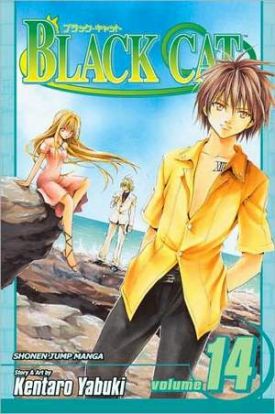 Thanks to barnesandnoble.com for the image.
BLACK CAT, VOL. 14
"Alliance"
Train Heartnet, also known as " Black Cat," was an assassin for a secret organization, but he left that behind for the easy-going life of a "sweeper," a bounty hunter. Joined by fellow sweeper, Sven Vollfied, as his partner, a thief-for-hire named Rinslet Walker, and Eve (also called "Princess"), a living weapon created in a nanotech lab, Train is seeking vengeance against Creed Diskenth, a rival who killed a friend of Train's.
In Black Cat, Vol. 14, the mysterious information broker, Glin is forming a " Sweeper Alliance" in order to destroy Creed and his Apostles of the Stars. Glin offers Train and his partners a chance to join the alliance, but a challenging test of skill and intellect stands in their way. Even if they make it, no one in the Sweeper Alliance may be a match for the ruthless Creed and Co.
THE LOWDOWN: I had mixed feelings about Black Cat the first time I read the series, but when manga-ka Kentaro Yabuki isn't immersing his narrative in character interplay, he creates an exciting shounen manga (boys' comics) that is all about hard-edged action, kick-ass fights, and explosive weapons play. Black Cat is a quality action adventure – a cross between James Bond and a Warren Ellis superhero comic like The Authority or Thunderbolts.
POSSIBLE AUDIENCE: For the shounen lover in you.
B+
Last Updated: Jun 26, 2018 - 9:28