Comics / Comic Reviews / DC Comics
Batman #686 as a Neil Gaiman Event
By Leroy Douresseaux
February 21, 2009 - 21:00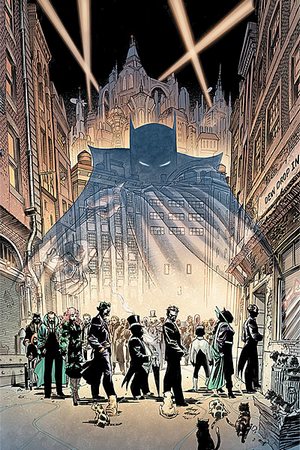 Andy Kubert's cover art with Alex Sinclair colors for Batman 686.
In 1986, DC Comics published a two-part tale that ran in Superman (Vol. 1) #423 and Action Comics #583 entitled "Whatever Happened to the Man of Tomorrow?" Written by Alan Moore and drawn by Curt Swan, the story was meant to close out much of Superman's fictional history – in particular that which occurred before the events of DC Comics' mid-1980's event series, Crisis on Infinite Earth.
Nearly a quarter century later, DC is publishing a similar kind of goodbye story – this time for Batman and begins in Batman #686. Written by Neil Gaiman, "Whatever Happened to the Caped Crusader?" features a Batman that is more or less a representation of the character over its 70-year history. The story opens in Crime Alley, the disreputable section of Gotham City where Bruce Wayne's parents were murdered by a mugger in front of a young Bruce. There, in the backroom of a rundown bar, Bruce Wayne's butler, Alfred Pennyworth is holding a wake for Batman, whose corpse lies, fully costumed, in a casket at the front of the room. In "Whatever Happened to the Caped Crusader?," Part 1, an incarnation of Catwoman and Alfred each tell tales of how Batman ended up in a coffin.
THE LOWDOWN: As popular as the character is in other media and as an image for licensing, Batman comic books don't draw much attention unless the character is involved in some kind of publishing event: a special storyline (Grant Morrison's recent Batman R.I.P.), a special publishing format (Grant Morrison and Dave McKean's hardcover Batman: Arkham Asylum), or special creator (Frank Miller doing Batman: The Dark Knight Returns). Thus, it's not ironic that Neil Gaiman, a comic book and fiction writer who some consider to be a rock star, is brought in for a special Batman event. If Gaiman is a "rock star," however, then "Whatever Happened to the Caped Crusader?" may be his Pop (U2, CD 1997) – a popular disappointment.
It's okay to expect a lot of Neil Gaiman; he certainly hasn't rejected the accolades and awards he's received. Readers, fans, critics, and reviewers usually do expect much of him, but this story is so unspectacular as to be pedestrian in the context of even work like Stardust. I never read Alan Moore's Whatever Happened to the Man of Tomorrow?, but I suspect that if Moore still had a working relationship with DC, this Batman coda would have been his assignment. Since DC couldn't get Moore, then, the powers-that-be obviously thought Gaiman was the next best thing. Gaiman, however, isn't anywhere near as good as Moore at writing superhero comic books. Here, Gaiman is out of place, and this story lacks even the imagination and magic Gaiman delivers in his fantasy work. There are a few good moments, but mostly this is disappointingly ordinary for a Batman publishing event.
Gaiman's not alone in delivering the blahs here. The art by Andy Kubert and Scott Williams is so polished and slick as to be boring – pretty but boring. All that Williams' inks add to Kubert's pencils is to make Kubert's work look like that of Williams' frequent collaborator, Jim Lee. Alex Sinclair's coloring is the only element here that has character; his candy-coated hues capture both the pulp and hardboiled traditions of Batman and the four-color milieu that has been his comic book home for seven decades. I hope the second half of this story, to be published in Detective Comics #853, offers more.
POSSIBLE AUDIENCE: People drawn to Batman events will want to read this.
C+
Last Updated: June 23, 2021 - 00:45