I'm Batman

By Philip Schweier
May 24, 2019 - 7:57
As graduation season rolls around once more, a video has re-surfaced of actor Michael Keaton speaking at Kent State University in 2018. He ended his commencement address with the words, "I'm Batman," delivered in the raspy growl he used on screen 30 years ago.
Fans of his performance react with joy at the thought, but I remember a much different reaction in 1988, when he was first announced as the star of Tim Burton's big screen adaptation. "What? Mr. Mom as Batman? Nooo!"
But those same fans were disappointed when it was announced Burton would not return for a third film, Batman Forever (1995). Instead, Val Kilmer took over the role, and fans were disappointed again when the role was recast for Batman & Robin (1997).
Following Christian Bale's success as Batman in Christopher Nolan's reboot of the franchise, I don't believe fans would have been happy with anyone else in the role for Nolan's follow-up, Batman v Superman (2016). So it came as no surprise there was audience push-back when Ben Affleck took on the role of the Dark Knight.
Affleck is something of a polarizing force on film, often starring in summer blockbuster films with varying degrees of success, or in obscure productions targeted at a narrower audience. Nevertheless, Affleck returned to the role for Suicide Squad (2016) and Justice League (2017).
So, why all this history on who has portrayed Batman on film? Because it's relevant to the recent announcement of Robert Pattinson starring in The Batman (2021). Despite so many times the audience was disappointed by the casting, and expected to be disappointed by the actor's performance, they often weren't.
Batman is modern mythology, and playing such an iconic part is comparable to Hamlet or Willie Loman. Nevertheless, there were reports of an online petition was launched to have Pattinson removed from the role, most likely due to his high profile role in the Twilight franchise. Comic books have historically been a boys club, and the four Twilight films were seemingly aimed at the teen girl audience.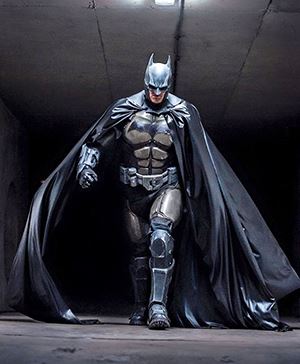 Anyone can be a fearsome creature of the night, with the right wardrobe.

Since the last film's release in 2012, Pattinson has kept a lower profile, with no major roles to his credit. Maybe I'm in the minority, but with several years behind him, perhaps he's entitled to some optimism. No doubt he has grown as an actor. And even if he hasn't, it doesn't matter. The suit does all the work.




It's the truth. The black batsuit covers all but the mouth and lower jaw of the actor, effectively turning anyone into Batman.




One reason Michael Keaton's casting was met with the same level of skepticism is because he wasn't deemed muscular enough. But by turning the costume into body armor, it worked, and became the model to follow for several years. Now, thanks to muscle-shaped Kevlar, any average-sized man can appear fit and muscular.




Anyone with the wardrobe can say, "I'm Batman," with the same credibility as Keaton, Kilmer or Clooney. So before we condemn Pattinson, before the first foot of film is even shot, let's try to keep an open mind. Fans have been proved wrong before; let's hope to be proved wrong again.




Praise and adulation? Scorn and ridicule? Leave your feedback below.


Support this writer on Patreon

Last Updated: May 24, 2019 - 8:42