Comics / Comic Reviews / DC Comics
Batman Confidential #5
By Geoff Hoppe
April 25, 2007 - 21:15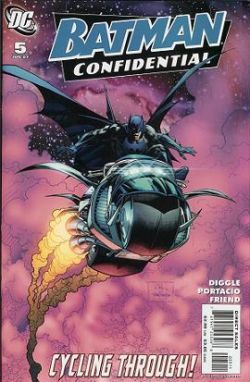 If I had very poor taste, I'd paint this on the side of my van.

In Batman: Confidential #5, Batman has been magically sucked into the world of the Animatrix, and boy oh boy is he looking forward to using his toyetic* new gizmos. There's a stereotypical stoopid army-type guy with a Hitler moustache, a stereotypical horde of battle robots, and a cover drawing with waaaayyyy too much fuschia for a Batman comic. Tres chic, Bruce.

All riffs aside, this issue is a fun excuse to see Batman destroy robots by blowing them up real good. There isn't a lot to criticize one way or the other because Andy Diggle doesn't get a chance to do much with the story-- #4 is an issue whose purpose is to move the action along, and move the action along it does. He does give the angry killer robots some clever lines, though, and seeing a battlebot shout "LOCK AND LOAD WE GOT A LIVE ONE" in computer-y typeface is worth a laugh.

As a child of the 80s/early 90s, I know I'm supposed to respect the original founders of Image Comics. They were my generation's bad boys, the new kids on the block who broke the rules and (gasp) had heroes who killed bad guys. That said, Whilce Portacio's performance in BC isn't that impressive. It's solid—his robots are interesting to look at, and there's some entertaining layout work—but his humans are jagged critters with more angles than a Bob Fosse dance routine.

Worth the money? If you enjoyed that Calvin and Hobbes comic where Tyrannosaurs hunted down Triceratops in F-14s, you'll love this. Seriously.

"Toyetic" means designed with an eye to merchandising. If you know what tv show I'm referring to when I say "toyetic," email me. Please.
Last Updated: June 23, 2021 - 00:45