Comics / Comic Reviews / DC Comics
Batman #678
By Geoff Hoppe
July 4, 2008 - 14:05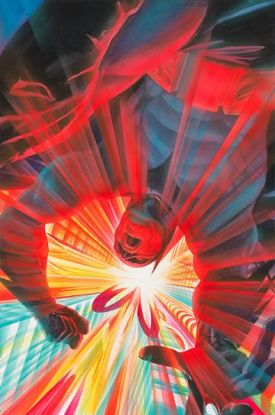 Batman uses his sweat to fuel SWEET RAVE PARTIES!!!

Batman #678 is part three of the epochal Batman: R.I.P. storyline, which guarantees to overhaul the character in incontrovertible ways that will forever affect DC Comics' greatest hero. Does it? Will it? I have no idea. Batman: R.I.P. is really confusing.

In Batman #678, Bruce Wayne recovers from a beating at the hands of the Club of Villains. He's still a little loopy after having been injected with "weapons grade crystal meth" and "street heroin," thus suffering from some understandable temporary amnesia. He's befriended and saved by a kindly homeless veteran named Honor Jackson, who leads him on an urban odyssey through Gotham. Meanwhile, other members of the Club of Villains attack Robin, put Nightwing in the asylum, and declare their victory over Batman complete.

The up side of the so-far confusing Batman: R.I.P. is that it holds your attention. The down side is that all the bizarre references and seeming in-jokes makes it feel like Grant Morrison is writing the story more for himself than the readers. Morrison keeps dropping the same clues—the inexplicable involvement of Bat-mite, the mention of whatever "zur-en-arrh" is—but clues usually imply an increasing knowledge of whatever's going on. Not so with Batman: R.I.P. The story is just as baffling as it was several issues ago, and while that's clearly Morrison's conscious choice, it's getting annoying.

Penciler Tony Daniel gives another solid performance, but that's the problem. After months of hype, the art should be more than solid or sufficient. The art in R.I.P. would be superior for a normal storyline, but if this truly is a character-changing arc for Batman, the art needs to be stronger. The problem may be as simple as the pairing of inker and penciler. Tony Daniel's un-inked pencil sketches are nuanced and stunning, but the finished product, inked by Sandu Florea, doesn't communicate Daniel's strengths.

Worth the money? Not quite. The story's still kind of frustrating, and the art isn't worth it.

P.S. if anyone actually knows what zur-en-arrh is, or has any ideas as to what's going on in this storyline, please comment below!
Last Updated: June 23, 2021 - 00:45