Comics / Comic Reviews / More Comics
Wayward #10 review
By Leroy Douresseaux
July 28, 2015 - 11:12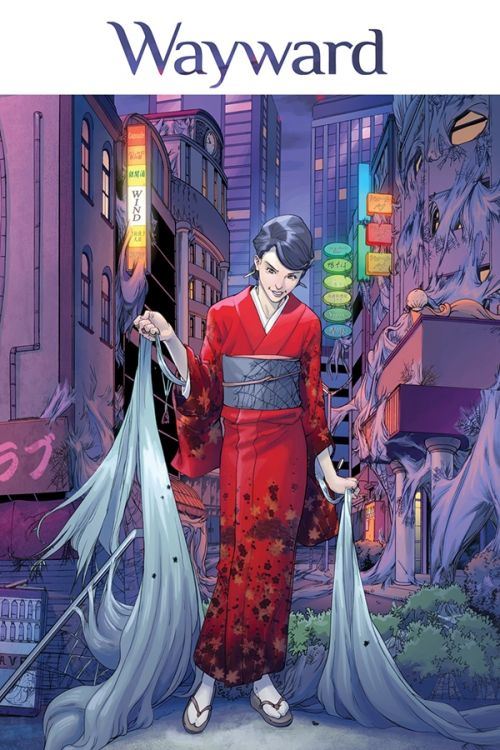 Wayward #10 cover image
The tenth issue of Image Comics'
Wayward
is the concluding issue of the series' second story arc. The comic book, which launched late Summer 2014, is set in Japan and features those creatures and spirits of Japanese folklore,
Yokai
. Wayward is the creation of writer
Jim Zub
and artist
Steve Cummings
. Wayward focuses on
Rori Lane
, a half-Irish/half-Japanese teen girl, who is trying to start a new life in Japan. Instead, Rori and a small band of fellow magically-touched folks battle a secret war of magic in the shadows of Tokyo.
Ohara Emi
was a quite school girl until she started manifesting strange powers. Now, she is the narrator of the current story arc, and she manipulates matter and transmutes man-made materials. As
Wayward

#10
("Chapter Ten") opens, Ohara,
Nikaido
, and
Ayane
have team up with
Tsuchigumo
. These are supernatural spiders that are fighting their yokai brethren.
Now, humans and mystical spiders attack the
Fudo Temples
, but their tengu guardians are determined to fight back. Do Ohara and her friends know the entire story of this fight, however? Meanwhile, Rori and
Shirai
, thought to be dead, prepare to reemerge.
THE LOWDOWN:
Wayward
writer/co-creator, Jim Zub, sent out advanced review PDF copies of
Wayward
#10 (which the ComicBookBin received). This is a pivotal issue. Not only is issue #10 the closing chapter of the series second story arc, but it also essentially the end of series introductions. Now, the series is prepared to get on with the big story, as Zub says in an afterword to this issue.
Zub's script does not disappoint, and co-creator Steve Cummings brings the script to life as magical graphical storytelling that remains grounded at the same time it brings the supernatural to life with imagination and inventiveness. Colorist
Tamra Bonvillain
delivers striking colors that make the magical energy pop. Also, integral Wayward contributor,
Zack Davisson
, delivers two essays (instead of the usual one) that explain the mythology and culture in which Wayward travels. I think the next 10 issues will blow our minds.
POSSIBLE AUDIENCE:
Readers looking for high-quality fantasy comic books will keep going
Wayward
.
[Wayward #10 contains two engrossing essays, "Circle of Protection Tokyo! The Goshiki Fudo" and "Sokushinbutsu – Buddhas of the Living World," by Zack Davisson (@ZackDavisson).]
Rating: A /10
Last Updated: January 24, 2022 - 11:00