Comics / Comic Reviews / More Comics
Wayward #1 Advanced review

By Leroy Douresseaux
August 3, 2014 - 11:59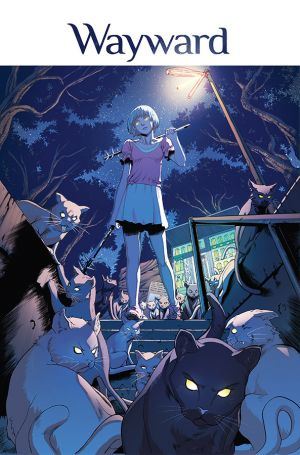 Wayward #1 Cover A cover image
Follow me on
Twitter
.
Additional material by Zack Davisson and Kalman Andrasofszky
Wayward
is an intriguing new fantasy comic book series from writer
Jim Zub
(
Skullkickers
,
Suicide Squad: Amanda Waller
) and penciller
Steve Cummings
(Legends of the Dark Knight
,
Deadshot
) and published by Image Comics. The upcoming series focuses on a teen girl trying to start a new life only to find herself confronted by the ancient creatures that lurk in the shadows of Tokyo.
Wayward

#1
("Chapter One") opens as
Rori Lane
arrives in Japan from Ireland. She is the child of a Japanese mother and an Irish father. Her parents divorced, and although she initially stayed in Ireland, she is now moving to Japan to live with her mother.
Moving halfway across the world from Ireland to make a new home means that Rori will have to make some cultural adjustments, but she is game. Things are going well, and it seems as if she and her mother can live together. However, things take a turn for the weird when Rori begins glimpsing signs, creatures, and other things that no one else can see. Then, there is Ayane...
THE LOWDOWN:
It seems as if the selling point of Wayward is to compare it to
Buffy the Vampire Slayer
. I received a PDF copy for review from series writer, Jim Zub, and on one page of the PDF is the tagline, "Buffy the Vampire Slayer for a new generation." On the same page,
Hellboy
is referenced. With the comparisons/references to Buffy and Hellboy, you might think Wayward is a Dark Horse Comics title. In truth, Wayward's first issue makes a good first step towards being the long-running fantasy franchise that both Buffy and Hellboy are.
However, Wayward does also resemble, to one extent or another, urban fantasy comics published by DC Comics' imprint, Vertigo (particularly Crossing Midnight), and by VIZ Media (the sublime Natsume's Book of Friends). In fact, the manga and Japanese comparisons are appropriate as Wayward's pencil artist, Steve Cummings, drew the OEL manga (American manga) titles,
Pantheon High
and
Star Trek: The Manga
, for TOKYOPOP.
Whether the creators hope for their new comic book to inherit the mantle of Buffy the Vampire Slayer or not, we can keep discussing in the future. What I can say is that Wayward is a series with promise and with a promising lead character. Rori Lane is the kind of misfit who isn't afraid of the big, mean world. She doesn't seem like a young woman ready to run away, and in that, she is like Buffy. Zub uses internal dialogue (via caption boxes) both to endear her to us and to make her journey of discovery our journey also. I can tell by this winning first issue that some readers will be glad to be Rori's Scooby gang, and, if need be, her BPRD. I am one of them.
The art by Steve Cummings, John Rauch, and Jim Zub is colorful and vibrant. Wayward's Tokyo might be a crowded modern city, but it isn't drab or dull; the monsters in the shadows will make sure of that. Cummings' storytelling is clean and straight-forward, which makes the magic and mystery stand out.
I think that Wayward will be different from the other titles that Image is publishing, and that's a good thing. I think the Young Adult novel has finally made it to comics in the form of Wayward, and I think it will be one of the standout new titles of the year.
POSSIBLE AUDIENCE:
Readers looking for urban fantasy and for magic and mystery will want to go
Wayward
.
Rating: A- /10
Last Updated: February 5, 2023 - 09:06