Comics / Comic Reviews / More Comics
Wayward #3 Advanced review
By Leroy Douresseaux
October 27, 2014 - 20:24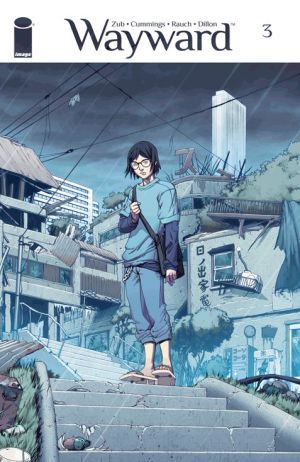 Wayward #3 cover image
Follow me on
Twitter
.
The third issue of
Wayward
, the intriguing new fantasy comic book series from writer
Jim Zub
(
Skullkickers
) and penciller
Steve Cummings
, arrives in comic book stores this week. Published by Image Comics,
Wayward
focuses on
Rori Lane
, a half-Irish/half-Japanese teen girl who is trying to start a new life in Japan, only to find herself connected to the magic and ancient creatures that lurk in the shadows of
Tokyo
.
As
Wayward

#3
("Chapter Three") opens, Rori can sense a storm is brewing – both naturally and supernaturally. She still isn't fitting in at school, but she's found a homeboy, of sorts, in
Shirai
, a teenaged boy who can "eat ghosts." Meanwhile, somewhere else in Tokyo, a stranger man senses a "rogue weaver." Also, enter
Nikaido
, and someone whom Rori knows has a secret.
THE LOWDOWN:
Writer Jim Zub sent an advanced review PDF copy of
Wayward
#3, and the ComicBookBin was one of the recipients. Dear reader, I really appreciate a chance to read advanced comics, but when the comic book is something as good as
Wayward
, I almost feel honored to receive it.
Clearly,
Wayward
is attracting readers, and I think that is because Jim Zub is slowly introducing readers to a world of magic and intrigue. Perhaps, it is a really big world, and the only way for Zub to do right by his creation is to work through the characters. They confront the magic in bits and pieces, rather than having to face an epic, wide-ranging magical conspiracy all at once. Zub knows that if we buy into the characters first, we will also accept the supernatural that they encounter as they encounter it.
Yes, someone says the word, "magic," in this chapter, but artist Steve Cummings perfectly blends the magical, the supernatural, and the otherness into a solidly real world of mundane tasks and ordinary living. Cummings is going to make us invest in this world, by recognizing its relationship to ours. Cummings' art is kind of teaching our imaginations to feel the difference between an ordinary world in which magic just might be as legitimate a part of the world as anything else.
Yeah, it's not fluke. Wayward is one of the best new titles of the year. Plus,
Zack Davisson
offers another hugely informative essay on the mythology of Japan in "The Magical Foxes of Japan."
POSSIBLE AUDIENCE:
Readers looking for urban fantasy and for magic and mystery will want to go
Wayward
.
Rating: A /10
Last Updated: January 24, 2022 - 11:00