Comics / Comic Reviews / More Comics
Wayward #9 review
By Leroy Douresseaux
June 24, 2015 - 15:49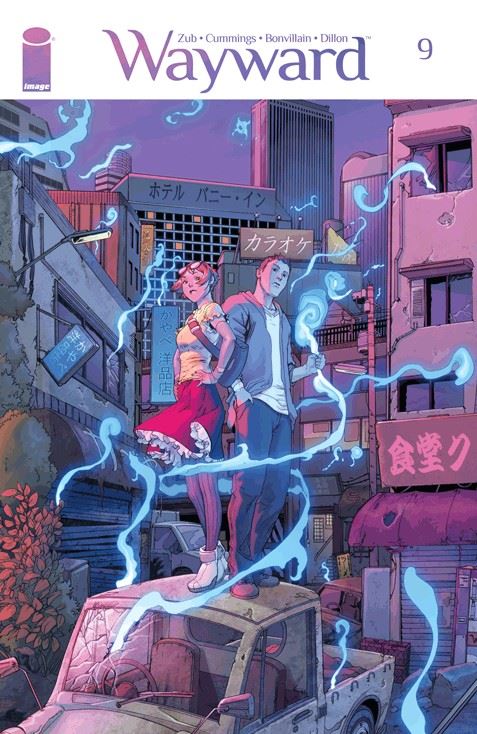 Wayward #9 cover image
The latest issue of Image Comics'
Wayward
is the second-to-last issue of the series' second story arc. The comic book, which launched late Summer 2014, is set in Japan and features those creatures and spirits of Japanese folklore,
Yokai
. Wayward is the creation of writer
Jim Zub
and artist
Steve Cummings
.
Wayward
focuses on
Rori Lane
, a half-Irish/half-Japanese teen girl, who is trying to start a new life in Japan. Instead, Rori and a small band of fellow magically-touched folks battle a secret war of magic in the shadows of Tokyo.
Wayward

#9
("Chapter Nine) opens in the past, as we witness the "Great Tengu,"
Daranibo
and his forces destroy a village. What's going on?
Back to the future:
Ohara Emi
(the narrator of much of this story arc) and
Nikaido
meet cat-girl
Ayane
's new pals, the
Tsuchigumo
– the Earth Spiders. They offer to help the trio in the battle against the Yokai, Nurarihyon, and his allies, but Ohara is suspicious. Meanwhile, Rori is on a mission, and she is feeling the full extent of her powers, which leaves her companion,
Shirai
, troubled.
THE LOWDOWN:
Wayward
writer/co-creator, Jim Zub, is still sending out advanced review PDF copies of
Wayward
, nine issues into the series, which one comics reviewer called "the next Saga." The ComicBookBin receives these complementary PDFs, and I am glad that I received this one. I had planned on not reviewing
Wayward
for a while. What more can I say about the comic book that should have received a "best new series" Eisner nomination, I thought?
Well, what I don't want to say is that
Wayward
is getting better. That's too easy. It is actually getting bigger. The more Zub opens this world to his readers, the more he will ensnare them in the weave and the more they will buy into
Wayward
's conceit. In fact, it will be increasingly harder for readers to walk away. Steve Cummings and
Tamra Bonvillain
's graphical storytelling blazes, conjuring Wayward in a furious story of imagination and wild magic.
Also, an integral contributor to
Wayward
is
Zack Davisson
, a writer and scholar who is an expert on Japanese folklore and culture, including manga. His essays, which appear after the last story page of each issue of
Wayward
, are must-reads for manga readers who are interested in Japan outside the comics pages. This issue's essay, "
The Secret History of Dirt Spiders
," is startling, and it also expands on information I have encountered in passing. This is info I need as a fan of Japanese comics and literature, and also of Japanese film and television.
POSSIBLE AUDIENCE:
Readers looking for high-quality fantasy comic books should already be going
Wayward
.
[Wayward #9 contains another engrossing essay, "The Secret History of Dirt Spiders," by Zack Davisson (@ZackDavisson).]

Rating: A+ /10
Last Updated: February 5, 2023 - 09:06