The Water Dragon's Bride: Volume 2 manga review
By Leroy Douresseaux
Jul 8, 2017 - 14:39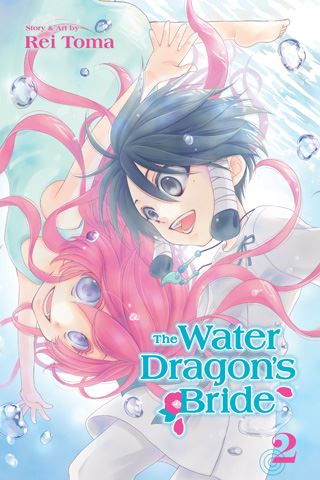 The Water Dragon's Bride Volume 2 cover image
Rated "T" for "Teen"
A modern-day girl named
Asahi
is pulled into a pond and is whisked away from her happy home. Suddenly, she is a stranger in a strange and mysterious new land. She meets a boy,
Subaru
, the son of a prominent family of a nearby village. Subaru takes Asahi home, but his mother immediately dislikes the girl and plots to sacrifice her to the god of the
Great Lake
.
The Water Dragon God
wants Asahi to be his wife; she refuses, and he steals her voice.
As
The Water Dragon's Bride

, Vol. 2
(Chapters 5 to 8) opens, Asahi hovers near the brink of death because of a burn inflicted upon her by Subaru's mother. The Water Dragon God decides to heal Asahi although she has rejected him. Feelings of compassion for the girl have awakened in the deity, but Asahi still fears him and is also desperate to go home. When she hears rumors of another modern person who lives in this new world, Asahi hopes that she has discovered a way out, before her grief destroys this world.
[This volume includes Bonus Comics 1 and 2.]
THE LOWDOWN:
I did not read the first volume of The Water Dragon's Bride manga, but my VIZ Media rep did send me a copy of the second graphic novel in this series. The series, however, is easy to follow thanks to summaries on the back cover and near the front of the book and also because of the clean translation and straightforward English adaptation by
Abby Lehrke
.
The Water Dragon's Bride Volume 2
epitomizes
Rei Toma
's trademark of shojo manga with pretty art and edgy storytelling. The graphical storytelling and art is soft-focused and has a sweet-nature, but the story it tells has hard edges and a dark center. However, I don't know what to make of this manga. The title character is shallow and not likable at this point in the story, and the lead character is a cry baby. The characters are simplistic and simple, although I think that overall this narrative has an interesting premise. I am curious to see where Toma takes this, as I was really impressed by her manga, Dawn of the Arcana.
I READS YOU RECOMMENDS:
Fans of Rei Toma will want to try
The Water Dragon's Bride
.
B
6 out of 10
Rating: 6 /10
Support this writer on Patreon
Last Updated: Jun 26, 2018 - 9:28