VIZ Media and Netflix Announces Original Anime, "Seis Manos"
By The Editor
May 9, 2018 - 21:39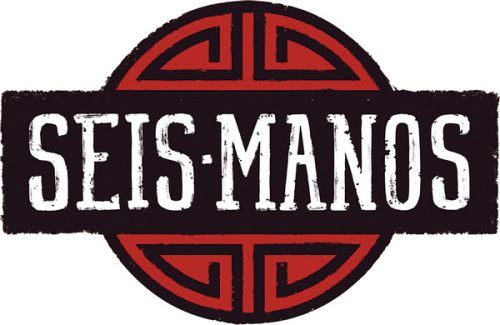 Seis Manos logo
NETFLIX ANNOUNCES ITS FIRST ANIME ORIGINAL SERIES SET IN MEXICO, SEIS MANOS

Action anime series set to launch globally in 2019
Netflix, the world's leading internet entertainment service, announced today, Seis Manos, its first original anime series set in Mexico, launching on Netflix globally in 2019. The series is produced by VIZ Media, LLC.
Set in Mexico in the 1970's era, Seis Manos centers on three orphaned martial arts warriors who join forces with a DEA agent and a Mexican Federale to battle for justice after their beloved mentor is murdered on the streets of their tiny border town. In addition to VIZ Media LLC, development and production of Seis Manos will be handled by Powerhouse Animation, Inc., which produced the Netflix original anime show Castlevania. The series is co-created by Powerhouse CEO Brad Graeber and writer Alvaro Rodriguez (Machete, From Dusk Till Dawn: The Series). Also a writer on the series is Dan Dominguez (Captain Underpants, Spongebob Squarepants, Crash and Bernstein), and the series will be directed by Willis Bulliner (Agents of Mayhem, storyboards on Netflix's Castlevania).
"With over 30 years of experience bringing the best manga and anime to North America, Seis Manos will be VIZ Media's first original animated property. We're thrilled to bring Seis Manos to life with our partners at Netflix and Powerhouse Animation," says Brad Woods, Chief Marketing Officer, VIZ Media. "This show combines the absolute best in action and storytelling."
"We're excited to be working with such a fantastic group of animators and storytellers to produce our first original anime series set in Mexico," said John Derderian, Director of Japan & Anime for Netflix. "Our Mexican subscribers, and viewers in Latin America more broadly, have a tremendous passion for anime. We look forward to sharing this completely unique series with them, and with the growing community of anime fans around the world," added Derderian.
About Netflix
Netflix is the world's leading internet entertainment service with over 125 million members in over 190 countries enjoying more than 140 million hours of TV shows and movies per day, including original series, documentaries and feature films. Members can watch as much as they want, anytime, anywhere, on nearly any internet-connected screen. Members can play, pause and resume watching, all without commercials or commitments.
Netflix.com/seismanos
Last Updated: February 5, 2023 - 09:06