VIZ Media Has Anime Gifts for 2017 Holiday Season
By The Editor
November 1, 2017 - 23:16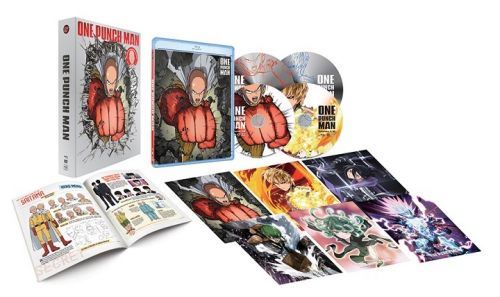 One Punch Man Set 01 Combo Pack - Beauty shot
VIZ MEDIA DETAILS ANIME GIFT SELECTIONS FOR THE 2017 HOLIDAY SEASON
Diverse Gift Selections For That Special Fan Include BORUTO, JOJO'S BIZARRE ADVENTURE, ONE-PUNCH MAN, RANMA ½, SAILOR MOON CRYSTAL And POKÉMON Home Media Sets
VIZ Media, LLC (VIZ Media), a premier company in the fields of publishing, animation distribution, and global entertainment licensing, invites audiences and anime fans to celebrate the holiday season with a variety of home media releases that make ideal gift selections.
Notable titles include the action-filled anime film, BORUTO: NARUTO THE MOVIE, which depicts the rebellious son of the legendary ninja, Naruto. Also catch the multi-generational adventures of JOJO'S BIZARRE ADVENTURE, which is available as a Limited Edition Blu-ray set. Action fans can also enjoy the hard-hitting battles of ONE-PUNCH MAN, offered as a Limited Edition Blu-ray/DVD Combo Pack. And those with a taste for martial arts and mayhem won't want to miss the RANMA ½ OVA & MOVIE COLLECTION, which includes eleven episode-length Original Video Animation (OVA) adventures as well as three RANMA ½ theatrical movies.
SAILOR MOON fans can look forward to SAILOR MOON CRYSTAL Set 3, which is available as a Blu-ray/DVD Combo Pack and also in Standard DVD editions. Finally, viewers of all ages can revel in the imaginative adventures of POKÉMON with the POKÉMON INDIGO LEAGUE Blu-ray edition. The all-new edition features the beloved series' complete first season (52 episodes) presented for the first time on Blu-ray in a six-disc set.
BORUTO: NARUTO THE MOVIE BLU-RAY/DVD COMBO PACK
Rated TV-14 · MSRP: $29.98 U.S. / $34.99 CAN · Available Now!
With Naruto as the Seventh Hokage, Hidden Leaf Village is planning to host the Chunin Exams to train new shinobi from the village and from five of their allied villages. Among the entrants are Sasuke's daughter, Sarada, who adores Naruto, Mitsuki, an exceptionally talented yet mysterious shinobi… And Boruto, Naruto's son who shows great potential, but despises his father.
Sasuke, who's been on a mission, appears before Naruto to warn of a strange impending danger he has sensed. Shrouded with an evil aura, Momoshiki and Kinshiki appear during the Exams and attempt to weaken and kidnap Naruto. Boruto is petrified and unable to do a thing while Sasuke guards him. As Naruto steps in front to shield them, he smiles faintly and disappears in front of Boruto.
JOJO'S BIZARRE ADVENTURE LIMITED EDITION BLU-RAY SET
Rated TV-14 · MSRP: $69.99 U.S. / $81.99 CAN · Available Now!
JOJO'S BIZARRE ADVENTURE is set in late 19th century England, where rivals and surrogate brothers Jonathan Joestar and Dio Brando discover a mysterious stone mask. The mask is an artifact of an ancient Central American culture and is capable of granting its wearer eternal life, but only at a heavy price. As the dark powers of the Stone Mask are unleashed, the brothers' actions will define legacies that span generations.
ONE-PUNCH MAN LIMITED EDITION BLU-RAY/DVD COMBO PACK
Rated TV-14 · MSRP: $59.99 U.S. / $81.99 CAN · Available Now!
ONE-PUNCH MAN depicts the adventures of Saitama, a young man who only became a hero for fun. But after three years of "special" training, he finds that he can beat even the mightiest opponents with a single punch. Though he faces new enemies every day, it turns out being devastatingly powerful is actually kind of a bore. Can a hero be too strong?
The Limited Edition home media combo pack features the collection on two Blu-ray and two DVD discs. Notable bonus content includes six special ONE-PUNCH MAN OVA shorts, which are being released exclusively on the Blu-ray format, along with premium packaging, six collectible art cards, and a full-color episode guide booklet with summaries, character profiles, and staff and cast interviews.
RANMA ½ OVA & MOVIE COLLECTION BLU-RAY EDITION
Rated TV-14 · $54.97 U.S. / $63.99 CAN · Available Now!
Ranma Saotome, the iconic character created by master artist Rumiko Takahashi, is back for new adventures and more than a few hilarious misunderstandings along the way! From mishaps at a holiday party to casual use of mystical trinkets to possession by cursed dolls, what's in store for Ranma is anyone's guess in these original anime adventures. Also included in the new home media set are two feature-length RANMA ½ movies and one special OVA-length movie that brought Ranma to theaters to make some big choices with his heart and not his head…which is usually what starts his trouble in the first place!
POKÉMON INDIGO LEAGUE BLU-RAY EDITION
Rated TV-Y7 · MSRP: $69.99 U.S. / $81.99 CAN · Available Nov. 14th
It's Ash Ketchum's tenth birthday, and he's ready to do what many 10-year-olds in the Kanto region set out to do—become a Pokémon Trainer! Things don't go exactly the way he planned when he ends up with Pikachu instead of a standard first Pokémon, and winning Gym badges turns out to be much tougher than he thought. Luckily, he's got former Gym Leaders Brock and Misty at his side, along with a bevy of new Pokémon friends, including Bulbasaur, Squirtle, and Charmander.
Notable bonus features include a complete "Pokérap" video and "Who's That Pokémon?" digital art gallery. A recipe card from THE POKÉMON COOKBOOK: EASY & FUN RECIPES and a POKÉMON ADVENTURES Vol. 1 mini-manga sampler are also included.
SAILOR MOON CRYSTAL SET 3
Rated TV-14 · Blu-ray/DVD Combo Pack MSRP: $79.99 U.S. / $93.99 CAN Standard Edition DVD MSRP: $39.99 U.S. / $52.99 CAN · Available December 5th
The battle of good versus evil escalates as Sailor Moon and the Sailor Guardians face a new threat – this time from outer space! When a strange phenomenon starts turning people into monsters, Usagi and her friends learn that a secret organization called the Death Busters is responsible. Led by their all-powerful ruler Pharaoh 90, these alien beings are determined to invade Earth to make it their second home. Will the two mysterious Guardians calling themselves Sailor Uranus and Sailor Neptune be the key to Sailor Moon's victory, or her doom? And what is their connection to the prophetic dreams warning of impending destruction? With the fate of the world hanging in balance, Sailor Moon's resolve to protect all life will be put to the ultimate test!
For these holiday gift selections and more, check out VIZ.com/Holiday. For additional information on anime and manga titles distributed and published by VIZ Media, please visit VIZ.com.
Last Updated: September 6, 2021 - 08:15