VIZ Media Has "One-Punch Man" Anime Cast at NYCC 2016
By The Editor
September 30, 2016 - 21:10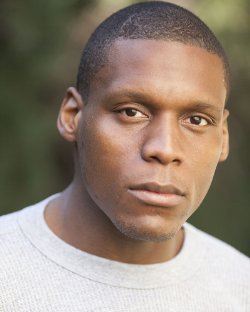 Headshot Chris Jai Alex, voice actor on the One-Punch Man anime, voicing "Boros"
VIZ MEDIA PRESENTS THE VOICE CAST OF ONE-PUNCH MAN ANIME SERIES AT NEW YORK COMIC CON 2016
English Voice Actors Zach Aguilar, Eric Scott Kimerer and Chris Jai Alex To Make Exclusive Appearances At The East Coast's Premier Pop Culture Convention
VIZ Media, LLC (VIZ Media), a premier company in the fields of publishing, animation distribution, and global entertainment licensing, proudly welcomes key English cast members from the hit anime series ONE-PUNCH MAN for a special series of personal appearances at New York Comic Con 2016.
Voice actor Zach Aguilar, who voices Genos, Eric Scott Kimerer, who voices Speed-o'-Sound Sonic, and Chris Jai Alex, who plays the villain Boros, will join VIZ Media's animation team for a special ONE-PUNCH MAN panel on Saturday, October 8th at 3PM. The actors also will appear for a pair of exclusive signing sessions during the convention.
New York Comic Con takes place October 6th – 9th at the Javits Convention Center in Manhattan and is the East Coast's biggest pop culture convention. The annual event plays host to the latest and greatest in comics, graphic novels, anime, manga, video games, toys, movies, and television. More information on New York Comic Con is available at: http://www.newyorkcomiccon.com.
ONE-PUNCH MAN Official Panel
Saturday, October 8th, 3PM – 4PM
Room 1A10
ONE-PUNCH MAN is the biggest property to debut out of Japan for both anime and manga! What's it like when a hero becomes too strong? Find out! Also catch special insights from voice actors Zach Aguilar (Genos), Eric Scott Kimerer (Speed O'Sound Sonic) and introducing Chris Jai Alex (Boros). Lucky attendees also will get the inside scoop from the VIZ Media team on what's next, plus a surprise or two!
ONE-PUNCH MAN Voice Cast On-Site Signing Sessions
Saturday, October 8th & Sunday, October 9th
Zach Aguilar, Eric Scott Kimerer and Chris Jai Alex will appear for TWO official signings – one on Saturday, October 8th and another on Sunday, October 9th. Ticketing details and the exact start times will be announced on the NYCC website at: http://www.newyorkcomiccon.com/Events/Events-I-Q/Private-Autographing-Lottery/.
Also stop by the VIZ Media Booth #2036 to browse a selection of ONE-PUNCH MAN products available for exclusive purchase during New York Comic Con. Items available for purchase will include:
· ONE-PUNCH MAN Manga Vols. 1-2 special bundle price - $15
· ONE-PUNCH MAN Manga Vol. 9 Pre-street - $10
· ONE-PUNCH MAN Manga Black & White Replica (Exclusive from Japan) - $15
· ONE-PUNCH MAN Oppai T-Shirt (Exclusive) - $20
ONE-PUNCH MAN is based on the bestselling manga series (the latest chapters serialized in Weekly Shonen Jump, and graphic novels published by VIZ Media; rated 'T' for Teens), created by writer ONE and artist Yusuke Murata. In the anime adaptation, Saitama only became a hero for fun, but after three years of "special" training, he finds that he can beat even the mightiest opponents with a single punch. Though he faces new enemies every day, it turns out being devastatingly powerful is actually kind of a bore. Can a hero be too strong? The series features a notable cast of English voice actors including Max Mittelman (as Saitama), Zach Aguilar (as Genos), Robbie Daymond (as Mumen Rider), Erik Scott Kimerer (as Speed-o'-Sound Sonic) and Chris Jai Alex (as Boros).
Voice actor Zach Aguilar won the Magi 2 Voice Acting Open Auditions at Anime Expo that were hosted by Bang Zoom! Entertainment and Aniplex in 2014. At 16 years old, he was one of the youngest people to ever win and was cast in Magi: The Kingdom of Magic. Zach also has played characters in series such as Aldnoah.Zero, Sword Art Online 2, The Seven Deadly Sins, and Mobile Suit Gundam: Iron Blooded Orphans. He can also be heard doing numerous commercials for Pandora internet radio!
Actor Erik Scott Kimerer has always heard voices in his head and decided to do the only sensible thing; let them out. He was born and raised in Seattle, where he was trained in the Japanese method of anime voice acting by a veteran seiyuu. After graduating in Theatre Arts he moved to L.A. to pursue his love of telling stories through video games, animation, and even in the wrestling ring. Recent anime works he has been featured in include Gundam: Iron-Blooded Orphans, Your Lie in April, Toradora Magi, Accel World, and Seven Deadly Sins. In the world of video games, Erik has lent his voice for characters in Tales of Xilia 2, Inazuma Eleven, Atelier Sophie, Heroes of Newerth, and Skullgirls.
Chris Jai Alex grew up in a creative house, born to a mother who was an aspiring pop star and a comic book store owner. Upon graduating, Chris moved to New York to pursue a music career where he would produce music for an up and coming indie label. Inspired by a film that reminded him of his childhood, he relocated to Los Angeles, CA to pursue entertainment on a large scale. To date he's worked in all aspects of the business with credits on camera from film and TV, including Turn, 6 Ways To Die opposite Tom Sizemore, and Vivica A. Fox, along with various video game and animation voice work including Steven Universe, The Boondocks and Killer Instinct. Chris has also worked in action and stunt roles in Batman Vs. Superman, Captain America Civil War, Grimm, and the main double in season one of Supergirl "J'onn J'onzz The Martian Manhunter."
VIZ Media is the official North American distributor of the ONE-PUNCH MAN anime and manga properties and holds the digital and print publishing rights as well as broadcast rights, digital streaming rights, home video rights and master merchandising rights to the series.
For additional information on ONE-PUNCH MAN and other anime and manga titles distributed and published by VIZ Media, please visit www.VIZ.com.
Support this writer on Patreon
Last Updated: December 31, 2019 - 20:28