VIZ Media's Digital Library on iBooks Store
By The Editor
October 31, 2013 - 14:57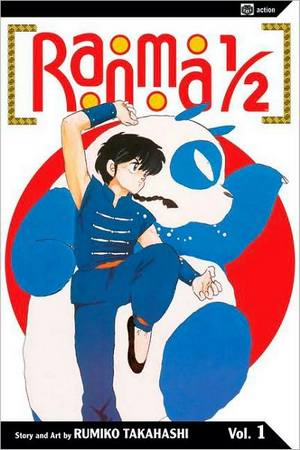 Ranma 1/2 Volume 1 cover image
VIZ MEDIA LAUNCHES EXTENSIVE DIGITAL MANGA CATALOG ON APPLE iBOOKS STORE
North America's Largest And Most Diverse Digital Manga Collection Is Now Available For iPhone®, iPad®, iPod touch® and Mac
VIZ Media, LLC (VIZ Media), the largest publisher, distributor and licensor of manga and anime in North America, has announced the debut today of its entire digital manga (graphic novel) catalog on the iBooks Store.
Readers can enjoy over 1,600 manga volumes, across more than 130 top-rated VIZ Media series, including continuing favorites such as NARUTO (rated 'T' for Teens), BLEACH (rated 'T' for Teens), BAKUMAN。 (rated 'T' for Teens) and ONE PIECE (rated 'T' for Teens), as well as recent bestsellers such as DEMON LOVE SPELL (rated 'T+' for Older Teens) and NISEKOI (rated 'T' for Teens). Readers may instantly access all titles, as well as free previews for each, on iBooks on iPhone, iPad and iPod touch, and Mac.
"The availability of this deep library of manga titles on the iBooks Store brings some of the genre's most popular and acclaimed series to legions of new and existing fans across North America with the reliability and convenience Apple's platform is renowned for," says Gagan Singh, EVP and CTO, VIZ Media. "With one of the largest and most diverse English language manga catalogs available anywhere, VIZ Media remains fully committed to the proliferation of high quality digital manga content, and we look forward to nurturing and continually expanding this robust catalog."
Individual volumes (presented in English, with right-to-left reading format) are generally available for purchase in the U.S. and Canada for $6.99 (U.S. / CAN) each. New series as well as the latest additions to numerous ongoing titles will be added each week.
For more information on VIZ Media manga titles, please visit www.VIZ.com.
Last Updated: September 6, 2021 - 08:15