VIZ Media Announces New Anime "Coppelion"
By The Editor
September 30, 2013 - 18:34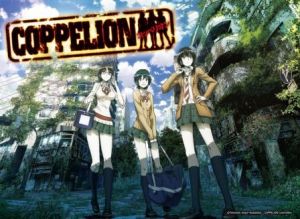 Coppleion key art
VIZ MEDIA DELIVERS THE NEW ANIME SERIES COPPELION TO NORTH AMERICAN AUDIENCES THE SAME DAY AFTER THE JAPANESE BROADCAST PREMIERE
Following A Catastrophic Disaster, Three Genetically Engineered Youths Travel To Save Those Forsaken By The Rest Of The World In A Special Simulcast Series Premiere On VIZ Anime, Hulu and Hulu Plus
VIZ Media, LLC (VIZ Media), the largest distributor and licensor of anime and manga in North America, has announced the very special online simulcast premiere of the new sci-fi anime action series – COPPELION – on VIZAnime.com, the company's own website for free anime, as well as on the free, ad-supported Hulu and Hulu Plus subscription service (www.hulu.com).
The new program (presented in Japanese with English subtitles) launches in North America on Wednesday, October 2nd, the same day after its debut broadcast in Japan, with a new episode to be available to stream domestically each Wednesday.
COPPELION takes place in the not-so-distant future as a catastrophic event has turned the old capital of Japan into a wasteland, forever changing the lives of its people. Decades later, three schoolgirls set foot into the now forsaken city. They are the Coppelion, genetically engineered humans created by the Japan Ground Self-Defense Forces to operate under the lethal conditions of the contaminated city. Trained since birth, the girls must use all of their skills and resources to carry out their one and only mission: to rescue those left behind.
"COPPELION is one of the most anticipated anime for Fall 2013, and fans won't want to miss the opportunity to catch the thrilling debut of this lushly animated series this week," says Charlene Ingram, Senior Marketing Manger, Animation. "Ibara, Aoi and Taeko are a breed of genetically engineered beings known as the Coppelion who embark on often dangerous missions to restore hope and rescue people from the forsaken city. Plenty of action and unique characters are in store as the girls slowly uncover the Old Capital's dark secrets!"
COPPELION is the animated adaptation of the popular manga series created by Tomonori Inoue that has been ongoing in Japan since 2008 and is currently featured in Monthly Young Magazine. The animated series is produced by GoHands, who also produced the original anime series K, seen domestically on VIZ Media's VIZAnime and Neon Alley platforms.
For more information on COPPELION and other animated titles from VIZ Media please visit www.VIZAnime.com.
Last Updated: February 5, 2023 - 09:06