VIZ Media and ComicsPRO Team for "Hello Kitty"
By The Editor
August 29, 2013 - 08:36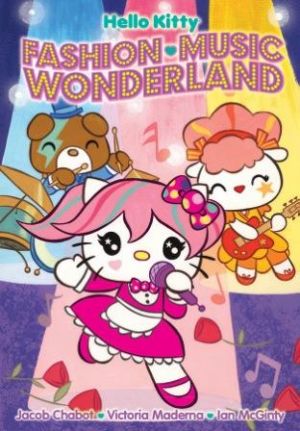 Hello Kitty Fashion Music Wonderland cover image
VIZ MEDIA AND COMICSPRO TEAM UP FOR EXCLUSIVE HELLO KITTY® GRAPHIC NOVEL EDITION
Pop Culture Icon Hello Kitty® And Her Friends Debut In A New VIZ Media Offering Featuring A Special Variant Cover By Artist Victoria Maderna
VIZ Media, LLC (VIZ Media), the largest publisher, distributor and licensor of manga, graphic novels and anime in North America, and Sanrio®, Inc. announce a special single-volume edition of HELLO KITTY®: FASHION MUSIC WONDERLAND, available exclusively through ComicsPRO member stores and featuring an exclusive full color variant cover by artist/illustrator Victoria Maderna.
The special edition of HELLO KITTY®: FASHION MUSIC WONDERLAND will be available to retailers that are ComicsPRO members exclusively through Diamond Comic Distributors. The volume will be released November 5th and will carry an MSRP of $6.99 U.S. / $7.99 CAN.
ComicsPRO is the trade organization serving the needs of comic book specialty retailers in North America. ComicsPRO provides a strong voice on important industry issues, educational and mentoring opportunities to current and future retailers, and works to improve business for all of its members and the comics industry as a whole.
The HELLO KITTY®: FASHION MUSIC WONDERLAND comic will feature art by Victoria Maderna, Ian McGinty and Eisner-nominee Jacob Chabot. A separate Hello Kitty® original graphic novel series is also scheduled to launch October 1st. HELLO KITTY: HERE WE GO!, a collection of comic stories about Hello Kitty's travels, will feature art by Chabot, Jorge Monlongo and Susie Ghahremani. Both offerings will be rated 'A' for All Ages.
HELLO KITTY®: FASHION MUSIC WONDERLAND cover artist Victoria Maderna is a full-time illustrator. She was born and raised in Argentina where she studied Graphic Design, and now lives in Madrid, Spain. She also worked on LITTLE MISS SUNSHINE™: HERE COMES THE SUN! (published by VIZ Media) and Adventure Time #10 (published by BOOM! Studios). Jacob Chabot is a New York City-based cartoonist, illustrator and writer. His comic The Mighty Skullboy Army is published through Dark Horse, and in 2008 was nominated for an Eisner Award for Best Book for Teens. He is also the artist on VOLTRON FORCE Vols. 1 and 6 (published by VIZ Media). The work of Ian McGinty (MFA, Savannah College of Art and Design) can be seen in the UGLYDOLL original graphic novels (published by VIZ Media) and Adventure Time: Candy Capers and Bravest Warriors comics (both published by BOOM! Studios).
HELLO KITTY® FASHION MUSIC WONDERLAND COMICSPRO EDITION EXCLUSIVE · MSRP: $6.99 US / $7.99 CAN · 48 pages · Available November 2013
It's Hello Kitty as you've never seen her, in stories filled with fashion, music and adventure! Special edition features a variant cover by artist/illustrator Victoria Maderna.
HELLO KITTY®: Here We GO! MSRP: $7.99 US / $9.99 CAN · 64 pages · Available October 2013
Hello Kitty has places to be and friends to meet! Join her as she explores an underground realm, chases an unsavory cake thief around the world, climbs the Himalayas, travels back in time, and discovers that sometimes, the best place to get away from it all is between the pages of a good book.
Sanrio® is the global company behind classic iconic characters Hello Kitty®, Little Twin Stars®, My Melody®, and many more. Sanrio® was founded in the 1960's in Japan by Shintaro Tsuji, whose simple dream of bringing smiles to people's faces grew into the brand's "small gift, big smile" philosophy. This philosophy has served as the inspiration for the broad spectrum of products bearing the likeness of endearing characters that have helped to skyrocket the brand into a $5 billion-a-year business. Sanrio® recently acquired the classic Mr. Men Little Miss™ brand which also has graphic novels published by VIZ Media.
"The HELLO KITTY: FASHION MUSIC WONDERLAND ComicsPRO Edition is the first exclusive product ever offered by VIZ Media to ComicsPRO members, and we are very excited to partner with Sanrio to develop this new line of original comics for the iconic Hello Kitty brand," says Beth Kawasaki, VIZ Media Senior Editorial Director. "We invite retailers that are ComicsPRO members to stock this fun new title that is sure to delight legions of Hello Kitty fans of all ages across North America."
"ComicsPRO's Board of Directors is pleased to be working with VIZ Media on this member-exclusive release of HELLO KITTY: FASHION MUSIC WONDERLAND. A strong and marketable product like HELLO KITTY belongs in the industry's most progressive retail outlets," said ComicsPRO President Thomas Gaul, owner of CornerStoreComics LLC in Anaheim CA. "Our goal is that this will encourage consumers to seek out ComicsPRO member stores for HELLO KITTY graphic novels while also inspiring more direct market retailers to join ComicsPRO."
For more information on VIZ Kids graphic novels and manga, please visit VIZKids.com.
About ComicsPRO
ComicsPRO is the only trade organization for comic book specialty retailers. ComicsPRO's goals are to promote advocacy, education, and opportunity for its members. Membership in ComicsPRO gives retailers benefits often only available to much larger groups, including preferential credit card rates and deals on health insurance. ComicsPRO is the Comics Professional Retailer Organization for professional career-oriented comic specialty store owners. More information is available at: http://www.comicspro.org.
Last Updated: August 31, 2023 - 08:12