VIZ Media Announces "Hello Kitty" Graphic Novels
By The Editor
February 11, 2013 - 15:32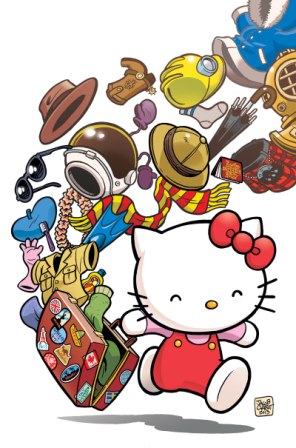 Hell Kitty image
VIZ MEDIA & SANRIO® ANNOUNCE PUBLISHING DEAL TO DEVELOP ORIGINAL HELLO KITTY® GRAPHIC NOVELS
Pop Culture Icon Hello Kitty® And Her Friends Will Debut In Two VIZ Kids Offerings
VIZ Media, LLC (VIZ Media), the largest publisher, distributor and licensor of manga, graphic novels and anime in North America, has announced a new publishing deal with Sanrio, Inc., the global lifestyle brand and parent company of pop icon Hello Kitty®, to develop a series of original graphic novels, and a special single-volume comic featuring a limited-edition Hello Kitty design.
The single-volume Hello Kitty® comic is scheduled to debut at the 2013 Comic-Con Show in San Diego with a Comic-Con exclusive cover by Eisner-nominated artist Jacob Chabot. The comic will feature art by Victoria Maderna, Ian McGinty and Chabot. The main graphic novel series is scheduled to launch in the Fall of 2013 with Here We Go!, a collection of comic stories about Hello Kitty's travels. Both offerings will be rated 'A' for All Ages, and will be published under the company's VIZ Kids imprint. VIZ Media previously teamed with Sanrio and video game company Capcom to develop a pair of fun STREET FIGHTER® X Sanrio books that were released in November 2012.
HELLO KITTY®: Here We GO!• MSRP: $7.99 US / $9.99 CAN • Available Fall 2013
Hello Kitty has places to be and friends to meet! Join her (or Hello Kitty) as she explores an underground realm, chases an unsavory cake thief around the world, climbs the Himalayas, travels back in time, and discovers that sometimes, the best place to get away from it all is between the pages of a good book.
HELLO KITTY® FASHION MUSIC WONDERLAND • MSRP: $6.99 US / $7.99 CAN • Available Summer 2013
It's Hello Kitty as you've never seen her, in stories filled with fashion, music and adventure!
Sanrio® is the global company behind classic iconic characters Hello Kitty®, Little Twin Stars®, My Melody®, and many more. Sanrio® was founded in the 1960's in Japan by Shintaro Tsuji, whose simple dream of bringing smiles to people's faces grew into the brand's "small gift, big smile" philosophy. This philosophy has served as the inspiration for the broad spectrum of products bearing the likeness of endearing characters that have helped to skyrocket the brand into a $5 billion-a-year business. Sanrio® recently acquired the classic Mr. Men Little Miss™ brand which also has graphic novels published by VIZ Media.
"Sanrio and Hello Kitty are synonymous with the very essence of pop culture, and we're very excited to have Hello Kitty as part of the VIZ Kids family of titles," says Beth Kawasaki, VIZ Media Senior Editorial Director. "The new wordless comic and graphic novel series will appeal to Hello Kitty fans of all ages. VIZ Media is having a blast creating the fun new original series and we can't wait for everyone to see the books."
For more information on VIZ Kids graphic novels and manga, please visit VIZKids.com.
About Sanrio
Sanrio, best known for global icon Hello Kitty and home to many endearing characters including Chococat, My Melody, and Keroppi, is a worldwide lifestyle brand founded on the "small gift, big smile®" philosophy -- that a small gift can bring happiness and friendship to people of all ages. For over 50 years, this philosophy has served as the inspiration for the broad spectrum of unique Sanrio products and experiences. Today, more than 50,000 Sanrio-branded items are available in over 70 countries and upwards of 12,000 U.S. locations including department, specialty, national chain stores and over 100 Sanrio boutiques. For more information, please visit www.sanrio.com and www.facebook.com/hellokitty.
About VIZ Media, LLC
Headquartered in San Francisco, California, VIZ Media distributes, markets and licenses the best anime and manga titles direct from Japan. Owned by three of Japan's largest manga and animation companies, Shueisha Inc., Shogakukan Inc., and Shogakukan-Shueisha Productions, Co., Ltd., VIZ Media has the most extensive library of anime and manga for English speaking audiences in North America, the United Kingdom, Ireland and South Africa. With its popular digital manga anthology WEEKLY SHONEN JUMP and blockbuster properties like NARUTO, BLEACH and INUYASHA, VIZ Media offers cutting-edge action, romance and family friendly properties for anime, manga, science fiction and fantasy fans of all ages. VIZ Media properties are available as graphic novels, DVDs, animated television series, feature films, downloadable and streaming video and a variety of consumer products. Learn more about VIZ Media, anime and manga at www.VIZ.com.
Last Updated: August 31, 2023 - 08:12