VIZ Media Rolls Out "Fluffy, Fluffy Cinnamoroll"
By The Editor
January 14, 2012 - 14:40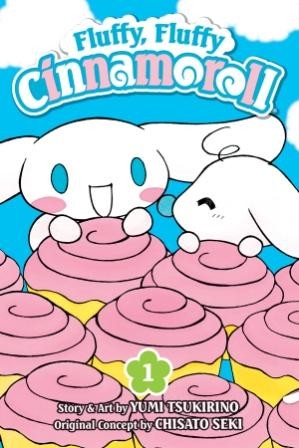 Fluffy, Fluffy Cinnamoroll cover image
VIZ MEDIA LAUNCHES FUN, ADORABLE KIDS' MANGA FLUFFY, FLUFFY CINNAMOROLL
Cute Flying Long-Eared Pup With A Penchant For Cinnamon Rolls Takes Off For Colorful Adventures In New VIZ Kids Manga Release
VIZ Media, LLC (VIZ Media), the largest distributor and licensor of anime and manga in North America, delivers some sweet high-flying fun with the debut of the VIZ Kids manga (graphic novel) property, FLUFFY, FLUFFY Cinnamoroll, available now. The colorful new adventure, with story and art by Yumi Tsukirino, is rated 'A' for All Ages, and will carry an MSRP of $7.99 U.S. / $9.99 CAN.
Meet the puppy with a tail like a cinnamon roll!
Cinnamoroll is no ordinary pup. He loves freshly baked cinnamon rolls and uses his long ears to fly high into the sky! With his friends Chiffon, Mocha, Espresso, Cappuccino and little Milk, he's always on the lookout for a new adventure. In their first journey, Milk has disappeared through a mysterious door and only Cinnamoroll can save him! Will he find the courage to help his friend and still make it back to Café Cinnamon in time for tea?
"FLUFFY, FLUFFY Cinnamoroll is a whimsical all-ages manga adventure based on an adorable Sanrio character created by Chisato Seki," says Traci Todd, Senior Editor, Childrens Publishing. "The cute floppy-eared pup is the latest character to join the VIZ Kids family, which also features MAMESHIBA, POKÉMON, and MR. MEN AND LITTLE MISS. Cinnamoroll is very popular in Japan, where he was the star of a 2007 anime feature film called Cinnamon The Movie. We hope this flying canine and his loveable friends will soon find a way into the hearts of readers everywhere with this fun manga story."
Author and manga creator Yumi Tsukirino debuted in the Japanese magazine Ciao in 1996 with "Crystal Change!!" Her other works include PiPiPi ☆ Adventure, Piyo Piyo ☆ Clinic, Chamo Chamo ☆ Pretty♪, and several Pokémon manga, in addition to creating numerous manga short stories.
FLUFFY, FLUFFY Cinnamoroll was conceived by Chisato Seki who began her independent career after having worked for a publishing company. Seki is the author of the Cinnamoroll picture book titled Cinnamoroll and the Lost Puppy, which was published in Japan by Shogakukan.
For more information on FLUFFY, FLUFFY Cinnamoroll and other VIZ Kids titles, please visit www.VIZKids.com.
Last Updated: September 6, 2021 - 08:15