VIZ Media Has "Cross Game" at VIZAnime.com
By The Editor
May 18, 2010 - 09:36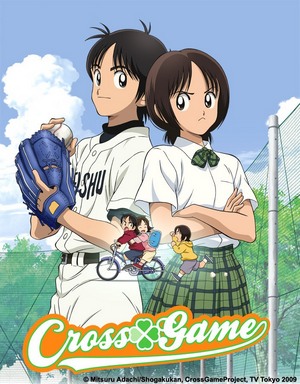 Cross Game promotional image
VIZ MEDIA STREAMING NEW ANIME SERIES CROSS GAME ONLINE AT VIZAnime.com
Joining The Highly Anticipated Preview Of The Manga
VIZ Media, LLC (VIZ Media), one of the entertainment industry's most innovative and comprehensive publishing, animation and licensing companies, has announced the very special North American premiere of the new anime series - CROSS GAME, a story set against the backdrop of baseball that explores the bonds of love shared between family and friends. CROSS GAME is streaming free on VIZ Media's VIZAnime website (www.VIZAnime.com) beginning today.
The news follows an announcement last month of VIZ Media's planned preview of the CROSS GAME manga series, which is scheduled to also go live today, on the company's Shonen Sunday website (www.ShonenSunday.com). The manga series, created by Mitsuru Adachi, is scheduled for release under the Shonen Sunday imprint on October 12, 2010.
CROSS GAME is a moving coming-of-age drama that is heartfelt and true and flows delightfully with a light and amusing touch. The series centers around a boy named Ko, the family of four sisters who live down the street, and their shared passion for the sport of baseball.
"VIZAnime is a convenient new one-stop web destination where visitors stream hundreds of episodes from not only classic VIZ Media anime properties, but also brand new series like CROSS GAME," says Andy Nakatani, Editorial Manager, VIZ Media. "CROSS GAME was created by one of the most talented names in manga and the anime counterpart is a wonderful adaptation of the well-crafted story of baseball, adolescence, tragedy and newfound love. We invite fans to explore VIZAnime and see what the growing buzz is all about."
VIZAnime is a free-to-use interactive web destination that is now the permanent home to some of the company's best-loved animated series. New content is now added on a weekly basis.
Series currently featured on VIZAnime includes BLEACH, BUSO RENKIN, DEATH NOTE, HONEY AND CLOVER, HIKARU-NO-GO, INUYASHA, INUYASHA: THE FINAL ACT, KEKKAISHI, NANA, NARUTO, NARUTO SHIPPUDEN, ONE PIECE and THE PRINCE OF TENNIS.
To view subtitled CROSS GAME animated episodes (rated 'T' for Teens) and other VIZ Media animated titles please visit www.VIZAnime.com.
For more information on the CROSS GAME manga (rated 'T' for teens) and other titles from VIZ Media's Shonen Sunday imprint, please visit www.ShonenSunday.com.
Last Updated: August 31, 2023 - 08:12