VIZ Media Brings "Buso Renkin" Anime to DVD
By The Editor
April 25, 2008 - 04:40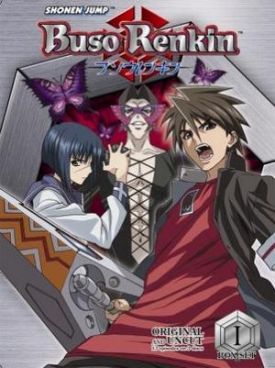 DVD slipcase cover
VIZ MEDIA ANNOUNCES THE DEBUT OF NEW ANIMATED FANTASY ACTION SERIES – BUSO RENKIN
New Series on DVD is Based on Popular Manga by the Creator Of RUROUNI KENSHIN and GUN BLAZE WEST
VIZ Media, LLC (VIZ Media), one of the entertainment industry's most innovative and comprehensive publishing, animation and licensing companies, has announced the debut of a new animated fantasy action series – Buso Renkin – to be released as a DVD box set on April 29th. The 3-disc set is rated 'T+' for Older Teen and features the first 13 episodes (of 26 total) with an estimated retail price of $49.98. The second half of the series is slated for release later this year.
The DVD box set comes in a collector's box with a foil slipcase and features exclusive art prints. The DVD also features special bonus interviews with the English voice cast and series director.
Buso Renkin introduces audiences to Kazuki Muto, a high school student who thinks he's saving a girl from a monster, but it turns out that he's the one who needs saving! Kazuki is stabbed and killed while fighting a homunculus, a malevolent creature that feeds on humans. A girl, Tokiko Tsumura, revives him by replacing his heart with an alchemical device called a kakugane. With this device, Kazuki can create his own Buso Renkin, a powerful alchemical weapon in the form of a huge lance, capable of destroying homunculi. With his new weapon, Kazuki decides to join forces with Tokiko to eliminate the evil homunculi and destroy their master, the strange and eccentric Papillon Masked Creator!
"Buso Renkin is the newest animated series from VIZ Media and will enthrall teen and young adult audiences with its unique story and fantastic characters," says Gonzalo Ferreyra, Vice President, Sales, VIZ Media. "Fans of Rurouni Kenshin will be excited to see this new series inspired by the work of master manga creator Nobuhiro Watsuki, and we are pleased to offer the first half of the show in such a comprehensive release. Fans of Watsuki's work now have two compelling ways to enjoy this series, as both a manga series and an animated program. With a mix of fantasy, action and comedy, we look forward to Buso Renkin developing a strong domestic following."
Buso Renkin is based on a popular 10-volume manga series by Nobuhiro Watsuki. Watsuki also created the notable wandering swordsman drama Rurouni Kenshin and the western action series Gun Blaze West. All three series are published domestically by VIZ Media. Buso Renkin manga volumes 1-3 were all featured in Bookscan's Top 50 Graphic Novel list in 2007, and in Japan the manga series has sold more than 3.3 million copies.
Last Updated: May 19, 2020 - 12:25