Comics / Comic Reviews / More Comics
Undertown: Volume 1
By Leroy Douresseaux
Aug 24, 2007 - 15:34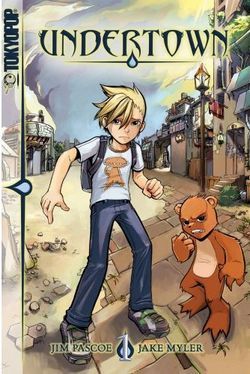 Thanks to amazon.com for the image.
Undertown, Vol. 1
begins the latest OEL manga series from TOKYOPOP. The last two years or so have seen the quality of this publisher's OEL (original English language) titles take huge leaps in terms of quality, imagination, and the talent of the creators. Undertown is no exception, and the creators – writer Jim Pascoe and artist Jake Myler – have delivered a highly imaginative drama/fantasy.
Sama is something of a crybaby, as his father apparently constantly reminds him. Sama cries so often that the tears stain his cheeks, but he finds comfort in his teddy bear, Eddie. When Sama's father falls gravely ill, a stranger at the hospital tells Sama that he can find a cure for his father, the Sugar Stone, but it is located in the mysterious realm of Undertown. All Sama need do is crawl under his bed, close his eyes, and countdown from ten to one.
When his father's condition turns worse, Sama takes a chance and does as the stranger told him. He wakes up in a strange place where anthropomorphized animals and insects do battle for the one thing that is most valuable in Undertown, sugar. Sama gets an even bigger surprise when his teddy bear, Eddie suddenly comes to life. With the help of a rabbit named B.W., a porcupine name Joey P.P., and a reticent penguin named Broom, Sama takes on The Cloud, the leader of the Insect Insurgents, to find the Sugar Stone. But mystery and secret histories swirl around a boy and his teddy bear, and before Sama can save his father, he'll have to discover them.
[
Undertown, Vol. 1
also includes a 10-page preview of the upcoming manga series,
Jim Henson's Legends of The Dark Crystal: The Garthim Wars
.]
THE LOWDOWN: Undertown bears a resemblance to or borrows elements from a variety of fantasy tales in which humans travel to strange lands, including The
Wizard of Oz
and
The Chronicles of Narnia
and also the film,
Labyrinth
. Writer Jim Pascoe has conceived and constructed a fairy tale story that could be a multi-volume series of novels, but converted to the comics medium, the story feels as if it's been squeezed into a box that can barely contain the huge cast of characters, labyrinthine plot, and expansive setting. One can't help but be impressed at the imagination, but it's hard not to notice how busy this narrative is. In spite of that, not only does
Undertown
have great upside, the first volume is filled with several fine sequences that strengthen the overall story.
Jake Myler's art is also quite busy. Although he uses a more traditional or cartoony approach in the basic design of the characters and narrative, Myler makes his art highly detailed and textured (in part due to a generous use of toning). This volume's small size – the usual format for manga (5" x 7 ½") – does Myler's art a disservice. This is a widescreen comic that needs a larger publishing format.

POSSIBLE AUDIENCE:
Having
The Dark Crystal
manga preview in here is appropriate as this manga should be appreciated by Jim Henson fans and also anyone who loves fantasy stories that take you to magical places just around the corner.
B+
Shop for Undertown at the Amazon aStore.
Last Updated: Jul 11, 2018 - 20:06