Why Comics?: From Underground to Everywhere book review
By Leroy Douresseaux
December 7, 2017 - 21:55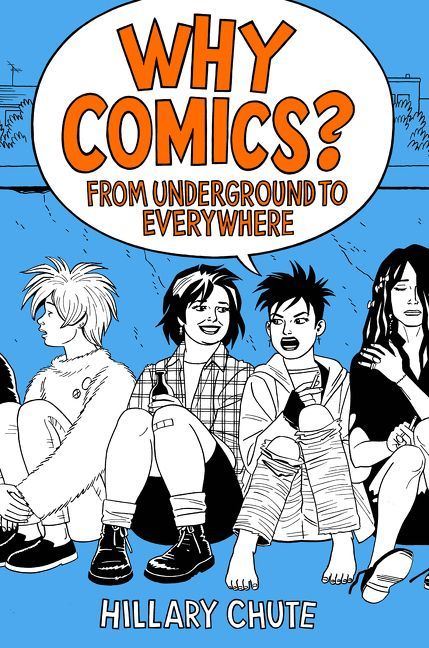 Why Comics?: From the Underground to Everywhere cover image
Why Comics? From Underground to Everywhere
is a new book from
Hillary Chute
, a professor and expert on comics and graphic narratives. She is an author of three other books, including
Graphic Women: Life Narrative and Contemporary Comics
. She was also the Associate Editor of
MetaMaus: A Look Inside a Modern Classic, Maus
– the 2011 book about the creation and artistic process of
Art Spiegelman'
s landmark graphic novel,
Maus
.
In Why Comics? From Underground to Everywhere, Hillary Chute analyzes the art form of comics. She delves into the past of the form, revealing the history of comics, underground comics (also known as "comix" and formally as Underground Comix), and graphic novels. She also paints fascinating portraits of acclaimed comics creators, including the
Alison Bechde
l (
Fun Home
),
Jaime Hernandez
(
Love and Rockets
),
Chris Ware
(
Acme Novelty Library
) and the aforementioned Art Spiegelman.
Chute divides her analysis and historical investigations into eleven topics, including the following:
• Why Disaster: with such major works focusing on disasters, from Art Spiegelman's work, which covers the Holocaust and 9/11 to Keiji Nakazawa's work covering Heroshima, comics find themselves uniquely suited to convey the scale and disorientation of disaster.
• Why Suburbs: through the work of Chris Ware and Charles Burns, Chute reveals the fascinating ways that Comics illustrate the quiet joys and struggles of suburban existence.
• Why Punk: With an emphasis on DIY aesthetics and rebelling against what came before, the Punk movement would prove to be a fertile ground for some of the most significant modern cartoonists, creating a truly democratic art form.
There is also chapters entitled "Why War," "Why Queer," and "Why Girls," among others. In addition to the original cover art, drawn by comic book great, Jaime Hernandez, this book includes over one hundred reproductions of famous, important, and essential images from prominent artists and their famous (or infamous) comics. All of this is in service of creating an indispensable guide to comics, comix, and graphic novels.
THE LOWDOWN:
Two of my favorite non-fiction books about the American comic book's history are Marvel: The Untold Story by Sean Howe and Superman: The High-Flying History of America's Most Enduring Hero by Larry Tye. Both books are rollicking histories that get into the down-and-dirty of history in a way that makes the reader (1) marvel (ahem) at the pluckiness of these small comic book publishers' ability to not only survive, but also to eventually become corporations that other corporations envy and (2) wonder why the men who operated these companies believed that they had to lie, cheat, and steal from the men and women who created the characters and situations that made these same publishers so enviable.
In Why Comics? From Underground to Everywhere, Hillary Chute uses history to analyze and in turn help readers understand "Why Comics?" What is the essence of the appeal of comic books, comic strips, graphic novels, and comix? What does this art form, comics, do that others cannot? This book is a conversation, one that is a guide through what comics does best, and it begins with history.
Perhaps the most important element in Why Comics? From Underground to Everywhere's foundation is that Chute does something many other writers do not. Many books about comics basically have the publications of DC Comics and Marvel Comics as their starting point and/or central focus/theme. Chute does not do that, and, in my estimation, that may be because Chute's foundation seems to be non-superhero comics, especially Art Spiegelman's Maus.
Maus, which was originally published in serial form, from the 1970s to the 1980s, in various Underground Comix, art comix, and alternative comics publications, is probably the most important work of comics in the last 50 years. It was not the first comic to show that comics could tell any kind of story, fiction or nonfiction, and not just stories that were escapist. However, Maus seems to be the work that has had the widest impact in convincing readers and cultural taste makers that comics can be grown-up, mature, adult, literary, and art.
Thus, with a work like Maus as her guiding light, Chute is not stuck in a viewpoint that revolves around Marvel and DC Comics. In trying to tell us about what comics do best, all comics are open to her regardless of corporate origin. And let's be frank, Chute moves past the American white male paradigm of the local comic shop (LCS) supplied by Marvel and DC via the Direct Market, finding great comics in many venues.
People will praise Hillary Chute's academic credentials, and that is important. Her scholarly chops are revealed in her selection of over 100 images from comics publications that certainly illustrate her points. However, I really like that her writing, analysis, and storytelling make true the last word in the title of her fantastic book, Why Comics? From Underground to Everywhere.
I READS YOU RECOMMENDS:
People looking for truly informative books about comics must have
Why Comics? From Underground to Everywhere
.
A
9.5 out of 10
Rating: 9.5 /10
Last Updated: January 24, 2022 - 11:00