Mobile Suit Gundam Thunderbolt: Volume 6 manga review
By Leroy Douresseaux
April 10, 2018 - 22:04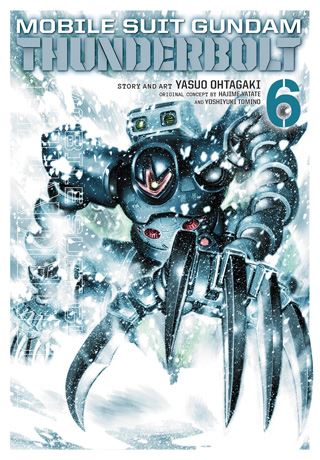 Mobile Suit Gundam: Thunderbolt Graphic Novel Volume 6 cover image
Rated "T+" for "Older Teen"
The science fiction manga,
Mobile Suit Gundam Thunderbolt
, is set in the classic science fiction universe of Mobile Suit Gundam. It apparently takes place simultaneously with the events depicted in the original "Mobile Suit Gundam" anime. Created by mangaka
Yasuo Ohtagaki
, this manga focuses on two rival mobile suit (MS) pilots,
Io Fleming
of the
Federation
and Chief Petty Officer Daryl Lorenz of
Zeon
, each bent on destroying the other.
Mobile Suit Gundam Thunderbolt

, Vol. 6
(Chapters 44 to 52) opens on "
Operation Thunderbolt
."
Antarctica
is the site of a battle between the Federation and Zeon. Aboard a the Federation MS (mobile suit) carrier, "
Spartan
," is the latest MS,
RX-78AL Atlas Gundam
. Io Fleming will pilot this new Gundam and take it into a deadly battle against a monstrous Zeon submarine. That submarine is commanded by a Zeon officer bent on revenge for his lost wife and child. Which will survive the cold, black depths of the Antarctic Ocean?
THE LOWDOWN:
The Mobile Suit Gundam Thunderbolt manga has moved its story from the blackness of outer space to the blackness beneath the waves of Earth's oceans. I suspected that the narrative might not be as intense because of this movie, but that is not the case.
Mobile Suit Gundam Thunderbolt Graphic Novel Volume 6
offers a story that is not quite as intense and as explosive as Vol. 5. Still, writer-artist Yasuo Ohtagaki continues to spin the action movie-like graphics that make each edition in this series a can't miss read.
I READS YOU RECOMMENDS:
Readers looking for classic mecha manga will want the VIZ Signature title,
Mobile Suit Gundam Thunderbolt
.
A
8 out of 10
Rating: 8 /10
Last Updated: August 31, 2023 - 08:12