Mobile Suit Gundam Thunderbolt: Volume 7 manga review
By Leroy Douresseaux
May 17, 2018 - 22:47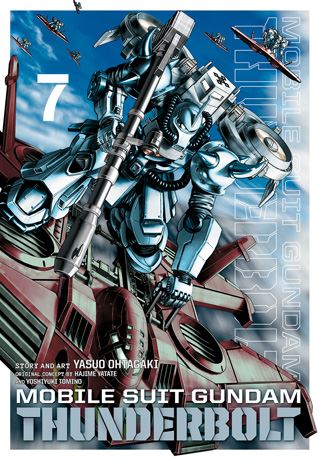 Mobile Suit Gundam: Thunderbolt Graphic Novel Volume 7 cover image
Rated "T+" for "Older Teen"
Mobile Suit Gundam Thunderbolt
, a science fiction manga, is set in the classic science fiction universe of Mobile Suit Gundam. It apparently takes place simultaneously with the events depicted in the original "Mobile Suit Gundam" anime. Created by mangaka
Yasuo Ohtagaki
, this manga focuses on two rival
mobile suit
(MS) pilots,
Io Fleming
of the
Earth Federation
and
Chief Petty Officer Daryl Lorenz
of
Principality of Zeon
, each bent on destroying the other.
As
Mobile Suit Gundam Thunderbolt

, Vol. 7
(Chapters 53 to 61) opens, Daryl Lorenz continues to work with doctors trying to heal
Dr. Karla Mitchum
, the brilliant designer of the Reuse P. Device. Meanwhile, Federation MS (mobile suit) carrier, "
Spartan
," continues its mission to clear Zeon forces from Earth. However, when the Spartan enters the territory of the
Nanyang Alliance
, a supposed ally, Nanyang's warrior monks attack, and Io Fleming will discover that someone close to him is now among the alliance's attack force.
THE LOWDOWN:
The Mobile Suit Gundam Thunderbolt manga is a fantastic read. The series has moved its story from the blackness of outer space to the blackness beneath the waves of Earth's oceans, and this is still an intense read., although I has suspected that the narrative might not be as intense because of this move.
Mobile Suit Gundam Thunderbolt Graphic Novel Volume 7
offers what is essentially the first teaser trailer that gives readers a peek into the world of the Nanyang Alliance. Creator Yasuo Ohtagaki even gives us a glimpse of the mysterious
Sojo Levan Fu
. If I come across as excited, I am. Mobile Suit Gundam Thunderbolt is just as good, if not better, than Marvel's
Star Wars
comic books.
I READS YOU RECOMMENDS:
Readers looking for classic mecha manga will want the VIZ Signature title,
Mobile Suit Gundam Thunderbolt
.
A
9 out of 10
Last Updated: February 5, 2023 - 09:06