Ultimo: Volume 10 manga review
By Leroy Douresseaux
November 14, 2014 - 19:53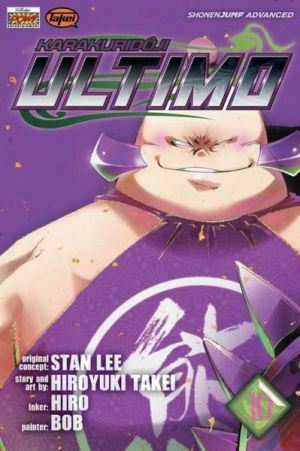 Ultimo Volume 10 cover image is courtesy of barnesandnoble.com.
Follow me on
Twitter
.
Rated "T+" for "Older Teen"
Stan Lee
is an American comic book legend. Among the many comic book franchises in which he has had a hand in creating are
Spider-Man
and the
X-Men
.
Hiroyuki Takei
is a mangaka (manga creator) known for bringing ideas from different cultures into his work, as seen in the unconventional shonen adventure manga,
Shaman King
. Takei took an original manga concept from Lee and turned it into the manga,
Karakuri Dôji Ultimo
.
In
Karakuri Dôji Ultimo
, there is a battle to the death to decide the most powerful force in the universe. Long ago, the mysterious
Dr. Roger Dunstan
(a character that resembles Stan Lee) created
UItimo
and
Vice
, two karakuri dôji ("mechanical boys"). Mechanical Boy Ultimo is the mechanical embodiment of perfect good; Mechanical Boy Vice is the mechanical embodiment of perfect evil. Dunstan wants them to battle to the death in order to prove once and for all whether good or evil is the most powerful force in the universe. Opposing Dunstan is
Agari Yamato
, an old adversary reincarnated into the modern world and is now Ultimo's partner.
As
Karakuri Dôji Ultimo

, Vol. 10
(entitled
Future Vision 2989
; Chapters 39 to 43) opens, Yamato renews his commitment to freeing Ultimo from Dunstan's "
Hundred Machine Funeral
," the ultimate battle between good and evil. Yamato brings Ultimo home and causes a situation involving his nakedness and a dress.
Murayama Musashi
, the policeman from the future, has decided that the good guys need a strategy session. He gathers, Yamato, Ultimo,
Makoto
(Yamato's sister),
Matsumoto Kiyose
,
Otake Akitsu
, and
Oizumi Yoichi
for school camp. However, they also need to travel through time to
Shinbashi 1947
, where good and evil diverge in modern Japan, in order to save
Oume Hibari
. It all leads to surprise appearances and a mess of the space-time continuum.
THE LOWDOWN:
For me, the best thing about the
Karakuri Dôji Ultimo
manga is the union of Stan Lee and Hiroyuki Takei. Still, beyond its pedigree, certain volumes of Ultimo are a blast to read.
Like Vol. 9,
Karakuri Dôji Ultimo Volume 10
caught and held my attention. Where Vol. 9 opened with the funeral of a character loved by other characters, Vol. 10 opens with comedy and friendship. The trip into the past offers some surprising ruminations on war, peace, and law. Is law that is heartlessly executed mere violence? Is a society in which everyone can live freely and in peace, a fantasy because of the gaps that inevitably develop between people? I'm ready for more like Volumes 9 and 10.
POSSIBLE AUDIENCE:
Mecha and big robot fans, as well as Stan Lee fans, will want to try the Shonen Jump Advanced title,
Karakuri Dôji Ultimo
.
Rating: B+ /10
Last Updated: August 31, 2023 - 08:12