Karakkuri Doji ULTIMO: Volume 9 manga review
By Leroy Douresseaux
October 26, 2013 - 17:37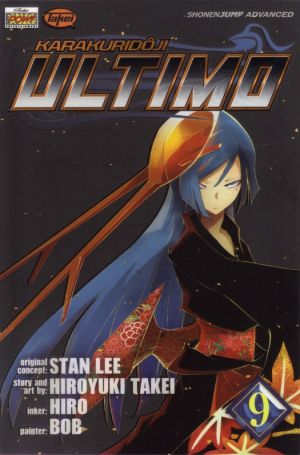 Ultimo Volume 9 cover image
Manga brings together an American comic book legend and a mangaka known for bringing ideas from different cultures into his work. Stan Lee, of course, is the co-creator of iconic superheroes such as Spider-Man and the X-Men, and Hiroyuki Takei created the unconventional shonen adventure manga, Shaman King. Takei took an original manga concept from Lee and turned it into the manga, Karakuri Dôji Ultimo.
Karakuri Dôji Ultimo revolves around a battle to the death to decide the most powerful force in the universe. Long ago, the mysterious Dr. Roger Dunstan (a character that resembles Stan Lee) created UItimo and Vice, two karakuri dôji ("mechanical boys"). Mechanical Boy Ultimo is the mechanical embodiment of perfect good; Mechanical Boy Vice is the mechanical embodiment of perfect evil. Dunstan created them to battle to the death in order to prove once and for all whether good or evil is the most powerful force in the universe. Opposing Dunstan is Agari Yamato, an old adversary who is reincarnated into the modern world and who is now Ultimo's partner.
Karakauri Dôji Ultimo, Vol. 9 (entitled Absorption-Evolution Battle; Chapters 34 to 38) opens with Eco's funeral. Yamato declares that to return everything to normal, he and his allies must defeat Dunstan. To that end, Samaya tells Yamato that he is "Good's" leader and must be bold. But what is good and evil, Yamato wonders.
Meanwhile, on "Evil's" side, Kodaira Rune suggests joining forces with Yamato to defeat Dunstan. That earns Kodaira and his doji, Jealousy, a fierce battle with Otake and the doji, Slow.
THE LOWDOWN: As I've written before, I look forward to reading the Karakuri Dôji Ultimo manga because it is the creation of Stan Lee and Hiroyuki Takei. I am not particularly interested in the series beyond that.
However, Karakuri Dôji Ultimo Volume 9 caught and held my attention. I wonder if that is because the story opens with a funeral – an attention-grabber to start off a book – for sure. I also think that the characters' goals, motivations, and machinations are clearer than they have been in recent volumes. The other thing of interest is the emergence of a rivalry within the ranks of the "Evil" side, which leads to some battles. And the art is quite good at depicting the battles – especially splash pages.
POSSIBLE AUDIENCE: Mecha and big robot fans, as well as Stan Lee fans will want to try the Shonen Jump Advanced title, Karakuri Dôji Ultimo.
Rating: B+ /10
Last Updated: January 24, 2022 - 11:00