Karakauri Dôji ULTIMO: Volume 8 manga review
By Leroy Douresseaux
January 26, 2013 - 13:38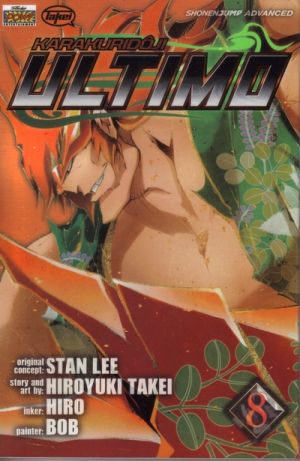 Karakauri Dôji ULTIMO Volume 8 cover image
Rated "T+" for Older Teen
The mysterious Dr. Roger Dunstan (a character that resembles Stan Lee) created UItimo and Vice, two karakuri dôji ("mechanical boys"). Mechanical Boy Ultimo is the mechanical embodiment of perfect good; Mechanical Boy Vice is the mechanical embodiment of perfect evil. Dunstan created them to battle to the death in order to prove once and for all whether good or evil is the most powerful force in the universe.
Karakauri Dôji Ultimo, Vol. 8 (entitled Theory of Good and Evil) opens with Hundred Machine Funeral: Battle One – the battle between good and evil dôji. It's God Sophia versus Demon Rage. Hundred Machine Funeral: Battle Two features the headliners Vice and Ultimo. Then, in Hundred Machine Funeral: Battle Three, Demon Orgullo takes on Makoto God Regula.
Also, it's back to the future, as the story enters the space-time continuum and delivers readers to North Island in the year 2989. Musashi Murayama, Agent 11 of Investigations Section 1 of the North Island Police, investigates a space-time disturbance. He and his sister, Commander Muyi Murayama, are about to discover Dr. Dunstan and his experiment in ultimate evil and ultimate good.
THE LOWDOWN: I look forward to reading the Karakauri Dôji Ultimo manga, but not because I am a big fan of this series. My curiosity remains because this manga is the creation of Stan Lee and Hiroyuki Takei. Lee, best known for his decades-long association with Marvel Comics, was involved in the creation of such characters and franchises as Spider-Man, the Avengers, and the X-Men. Takei is known for his long-running shonen adventure manga, Shaman King, and for being an assistant to the great mangaka, Nobuhiro Watsuki.
I like the mecha and robots, but my favorite thing about Ultimo is Dr. Dunstan – the Stan Lee-like character. There isn't enough of Dunstan in the series, which holds this back from being special.
POSSIBLE AUDIENCE: Mecha and big robot fans, as well as Stan Lee fans will want the Shonen Jump Advanced title, Karakauri Dôji Ultimo.
Rating: B /10
Last Updated: August 31, 2023 - 08:12