Karakuri Doji Ultimo: Volume 6
By Leroy Douresseaux
Sep 4, 2011 - 10:41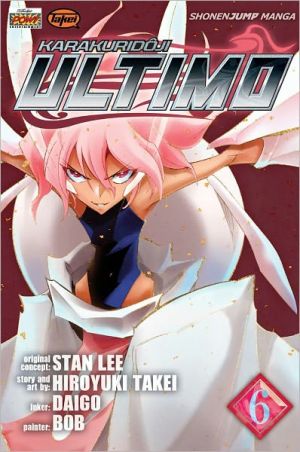 Ultimo Volume 6 cover image is courtesy of barnesandnoble.com.
Rated "T" for Teen
Karakauri Dôji Ultimo is a shonen manga (comics for teen boys) that focuses on two karakuri dôji ("mechanical boys). The series unites the imaginations of Stan Lee, the co-creator of The Amazing Spider-Man and the X-Men (among others), and Japanese cartoonist, Hiroyuki Takei, the creator of the manga, Shaman King.
Created by the mysterious Dr. Dunstan (a character that resembles Stan Lee), Mechanical Boy Ultimo is the mechanical embodiment of perfect good, while Mechanical Boy Vice is the mechanical embodiment of perfect evil. Dunstan created them over 900 years ago and has given them a purpose – to battle to the death to prove once and far all whether good or evil is the most powerful force in the universe. Ultimo's reincarnated master, Agari Yamato, is caught in the middle.
In Karakauri Dôji Ultimo, Vol. 6 (entitled The House of Awakening), everyone prepares for the Hundred Machine Funeral – the battle between good and evil dôji. The evil dôji, Désir, and its master, Miyoshi Sumako, launch their attack, but Yamato gets help from an old friend from long… long… long… ago.
THE LOWDOWN: I guess that it should be no surprise that if Stan Lee attempted to create a Japanese comic book, his idea of manga would involve big robots. That's just fine because, like Jack Kirby and Steve Ditko, Hiroyuki Takei takes Stan Lee's concept and runs with it – fashioning a comic book with more neat ideas. Ultimo has plenty of action violence, and is rather uncomplicated, but it is good that the man who made comic books that could be read and enjoyed by both adults AND children is part of another title friendly to young and old.
POSSIBLE AUDIENCE: Mecha and big robot fans will want Karakauri Dôji Ultimo.
B
Last Updated: Jun 26, 2018 - 9:28