Toriko: Volume 17 manga review
By Leroy Douresseaux
August 28, 2013 - 17:46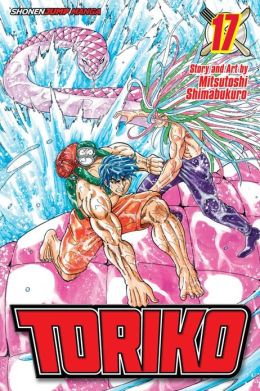 Toriko: Volume 17 cover image is courtesy of barnesandnoble.com.
Rated "T" for "Teen"
There is a savage, alternate version of Earth, where people pursue the most delicious foods in the world. It is eat or be eaten as practically everything and everyone is on the menu. Ultimate Gourment Hunter Toriko is on a life-long quest to create the perfect full-course meal. With young chef Komatsu at his side, Toriko has an Ultimate Hunter-Chef partnership, as he faces every beast in his way, many bound for his bottomless stomach.
As Toriko, Vol. 17 (entitled Shining Gourami!! Chapters 145 to 153) opens, Toriko and Komatsu visit the Gourmet Shrine. It is the place where the Gourmet God Acacia's Full-Course Meal is honored. It is also a place where the gourmet duo finds good luck and some strange, but tasty apples.
As he continues his training list menu, Toriko enlists the aid of Sunny, the Gourmet Hunter and one of the Four Kings. Toriko and Komatsu are determined to find the Shining Gourami, the translucent fish. But they will need Sunny and his new pal to help them cross Death Falls.
THE LOWDOWN: This current volume of the Toriko manga isn't one of the better volumes, but it is not, by any means, of poor quality. The chapters contained in Toriko Volume 17 do not showcase the best of the series. Toriko is wildly imaginative, with creator Mitsutoshi Shimabukuro even soliciting ideas for characters from his readers, but it seems to like the series' usual spark. Vol. 17 is fun, but don't mistake it as the best fun Toriko can offer.
POSSIBLE AUDIENCE: Readers looking for something crazy and enjoyable to read will find that in the Shonen Jump manga, Toriko.
Rating: B /10
Last Updated: August 31, 2023 - 08:12