Toriko: Volume 36 manga review
By Leroy Douresseaux
November 7, 2016 - 13:25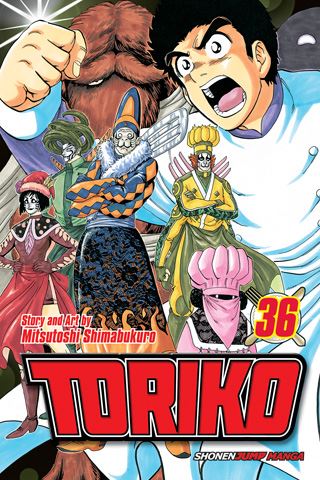 Toriko Volume 36 cover image
Rated "T" for "Teen"
There is a savage, alternate version of Earth where the pursuit of the most delicious foods is the most important endeavor. Practically everything... and everyone is on the menu.
Ultimate Gourmet Hunter Toriko
, one of the Four Kings, is on a life-long quest to create the perfect full-course meal. With young
IGO
chef,
Komatsu
, at his side, Toriko has an Ultimate Hunter-Chef partnership, as he faces every beast in his way, putting some in his bottomless stomach.
As
Toriko

, Vol. 36
(entitled
Deployment!!
Chapters 321 to 330) opens, Toriko and company are ready to capture the rest of the
Gourmet God Acacia's Full Course Meal
, after obtaining
Acacia's Soup
, "
Pair.
" Time, however, is running out, and Toriko and company are forced to pair up with their rivals from
Gourmet Corp.
in order to scour the Gourmet World for the rest of Acacia's Full Course. Plus, welcome to
Blue Grill
. Hope you survive the experience.
THE LOWDOWN:
The
Toriko
manga chugs along, continuing its assault on readers' imaginations. Now, adversaries must unite in a wild race to the finish, but why have it any other way.
Toriko
refuses to let its readers lose the excitement.
Toriko Volume 36
is packed with a lot of information, though, enough to surprise even long-time readers. Prepare to be shocked about Acacia. There are several new crazy places that creator
Mitsutoshi Shimabukuro
takes us. Then, there is Blue Grill. I love that
Toriko
, like the pirate manga, One Piece, is so full of wonderment and imagination. It embodies the true spirit of the comics medium the world over.
I READS YOU RECOMMENDS:
Readers looking for the best in shonen adventure will want a big taste of the Shonen Jump manga,
Toriko
.
A
Rating: A /10
Last Updated: February 5, 2023 - 09:06