Toriko: Volume 33 manga review
By Leroy Douresseaux
April 14, 2016 - 22:32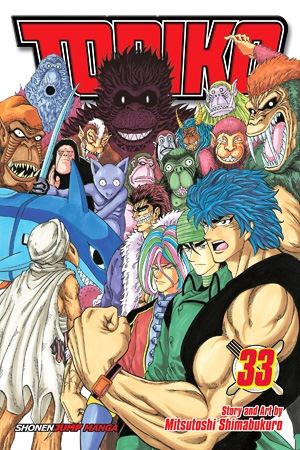 Toriko Volume 33 cover image
Rated "T" for "Teen"
There is a savage, alternate version of our Earth where the pursuit of the most delicious foods rules over everything else. It is eat or be eaten; practically everything and everyone is on the menu.
Ultimate Gourmet Hunter Toriko
, one of the
Four Kings
, is on a life-long quest to create the perfect full-course meal. With young IGO chef,
Komatsu
, at his side, Toriko has an Ultimate Hunter-Chef partnership, as he faces every beast in his way, putting some in his bottomless stomach.
As
Toriko

, Vol. 33
(entitled
Onward to Area 7!!
Chapters 292 to 300) opens, Toriko and the other Four Kings join Komatsu in enjoying Gourmet God Acacia's Salad, "
Air
," with the denizens of
Hex World
. The Four Kings find that Air has a strange effect on each of their
Gourmet Cell Demons
.
The reverie is interrupted by friend-turned-foe,
Teppei
, who launches a surprise attack. Now, the group must go deeper into the Gourmet World, to the continent known as Area 7 to find Gourmet God Acacia's Soup, "
Pair
" (also known "the Double-Sided Drop"). But Area 7 is ferocious and could kill even the Four Kings.
THE LOWDOWN:
This is the day that the
Toriko
manga leaves my frustrated. Series creator
Mitsutoshi Shimabukuro
, as always, present the most inventive people, beings, and creatures in the most amazing places. I'm frustrated because I am trying to find new ways to describe the par-tay that is reading
Toriko
.
Toriko Volume 33
takes everything to a whole-nutha'-level. Area 7, all to itself, could be the setting for an epic shonen adventure manga. Without the level of imagination it has, Toriko would not have been able to last 33 volumes and counting. I never thought it would get this far, even after reading previous volumes that I thought to be among the series' best.
Toriko
is the kind of manga that makes me happy to be reading manga.
POSSIBLE AUDIENCE:
Readers looking for the best in shonen adventure will want a big taste of the Shonen Jump manga,
Toriko
.
A
Rating: A /10
Last Updated: August 31, 2023 - 08:12