Toriko: Volume 38 manga review
By Leroy Douresseaux
May 27, 2017 - 13:08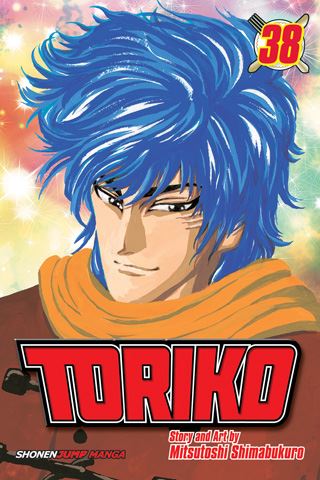 Toriko Volume 38 cover image
Rated "T" for "Teen"
A savage, alternate version of Earth: there, the pursuit of the most delicious foods is most important. Practically everything... and everyone is on the menu.
Ultimate Gourmet Hunter Toriko
, one of the
Four Kings
, is on a life-long quest to create the perfect full-course meal. With young IGO chef,
Komatsu
, at his side, Toriko has an Ultimate Hunter-Chef partnership, as he faces every beast in his way, putting some in his bottomless stomach.
In
Toriko

, Vol. 38
(entitled
To the Back Channel!!
Chapters 341 to 349), Komatsu surprises everyone with his ability to prepare "
Air
," faster than anyone can believe. Meanwhile, as the preparations to prepare the magical fish, "
Another
," begin, the chefs also must prepare the "
Golden Cookware
."
THE LOWDOWN:
The Toriko manga challenges its readers with more craziness of the imagination. Toriko is on par with One Piece when it comes to depicting amazing places, surprising creatures, and awesome characters. Sometimes, this weirdness can be a bit much, even for me.
Toriko Volume 38
does not connect with me. As usual, I was impressed with the inventively created people and creatures, but the story was so far out there. In future volumes, things may get stranger still.
I READS YOU RECOMMENDS:
Readers looking for the best in shonen adventure will want a big taste of the Shonen Jump manga,
Toriko
.
B
Rating: B /10
Last Updated: August 31, 2023 - 08:12