Toriko: Volume 37 manga review
By Leroy Douresseaux
February 21, 2017 - 22:10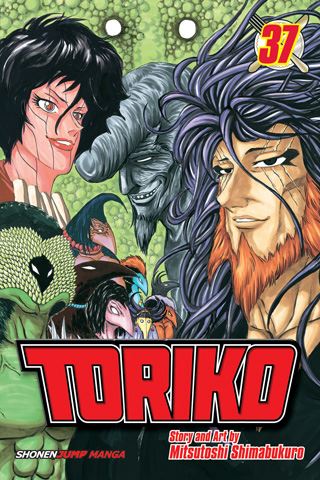 Toriko Volume 37 cover image
Rated "T" for "Teen"
On a savage, alternate version of Earth, the pursuit of the most delicious foods is most important. Practically everything... and everyone is on the menu.
Ultimate Gourmet Hunter Toriko
, one of the
Four Kings
, is on a life-long quest to create the perfect full-course meal. With young IGO chef,
Komatsu
, at his side, Toriko has an Ultimate Hunter-Chef partnership, as he faces every beast in his way, putting some in his bottomless stomach.
Toriko

, Vol. 37
(entitled
Signs of Life!!
Chapters 331 to 340) opens in the mysterious undersea kingdom of
Blue Grill
. This underwater civilization is full of master chefs, and now, they have challenged five of Toriko's companions to a cooking competition. Meanwhile, Komatsu has made a new friend who reveals the shocking secret of Blue Grill – the food souls.
THE LOWDOWN:
With every volume, the
Toriko
manga challenges its readers with more craziness of the imagination.
Toriko
is on par with
One Piece
when it comes to depicting amazing places, surprising creatures, and awesome characters. Sometimes, this weirdness can be a bit much.
Toriko Volume 37
is overkill. There is just too much going on. There are cooking battles and battle manga battles, and there is an surge from the series internal mythology. Some of Vol. 37 is as entertaining as usual, but some of it is an ungainly display of back story that stops the momentum of the narrative cold. I think this volume is a blip in what has been a pretty good run of graphic novels.
I READS YOU RECOMMENDS:
Readers looking for the best in shonen adventure will want a big taste of the Shonen Jump manga,
Toriko
.
A
Rating: A /10
Last Updated: August 31, 2023 - 08:12