Comics / Comic Reviews / Marvel Comics
Warren Ellis: Thunderbolts #113
By Leroy Douresseaux
June 12, 2007 - 15:19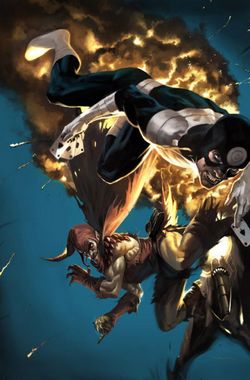 Marko Djurdjevic cover art sans lettering and titles.
THUNDERBOLTS #113
Members of the Thunderbolts are some of the most despicable villains around, but the Commission of Superhuman Affairs has turned them into a force to deal with superhumans offenders who are not registered with authorities. Thunderbolts #113 ("Faith in Monsters" Pt. 4) finds Norman Osborn (the Green Goblin), Director of the Thunderbolts, throwing his weight around – giving Andreas Strucker a verbal beat down, unsuccessfully browbeating Penance, and obsessing on Spider-Man. The webslinger, who won't register with authorities, however, isn't really the T-Bolts problem (for now). Osborn wants to make an example of the unregistered Steel Spider. Meanwhile, Sepulchre (formerly Shadowoman) gets an offer she might not be able to refuse.
THE LOWDOWN: Writer Warren Ellis has done two things with the Thunderbolts. First, his talky take on the team has made this an excellent superhero soap opera full of the kind of backstabbing and machinations that make daytime TV soaps so appealing to many viewers. Second, this is probably the best take on crazy people playing superhero since Rick Veitch's Bratpack, but written in a more practical fashion that makes T-Bolts palatable to a broader audience. Mike Deodato & Rain Beredo's moody cinematography is the best art to bring this fun craziness to life.
FOR READERS OF: People who have money to spend money on Marvel Comics should spend some of it on this. It's probably the most imaginative execution of a Marvel superhero comic since Morrison and Quitely's New X-Men.
A-
Last Updated: September 6, 2021 - 08:15