30 Days of Night: 30 Days 'til Death #3
By Leroy Douresseaux
May 11, 2009 - 09:47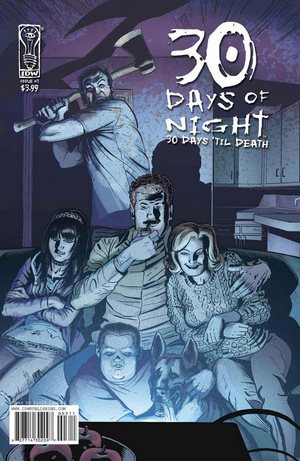 30 Days of Night: 30 Days 'til Death #3 cover image
30 Days of Night: 30 Days 'til Death follows the on-the-down-low exploits of vampire-in-hiding, Russ Welleby. Russ' problems began half a world away when the vampire Elders decided to eliminate their American cousins, which they saw as out of control, so a demonic vampire death squad was sent to dispatch the "cowboy vampires." Four months ago, Russ and his friends ran into squad leader, Olbrech, in Brooklyn, and only Russ and his friend, Martin, escaped the slaughter.
30 Days of Night: 30 Days 'til Death #3 finally brings big trouble to Russ' peace. Since Brooklyn, Russ has been living and hiding in Buffalo, NY, living in an apartment with Sarafina, a heroin addict that he… reformed. In the meantime, Martin survived another Death Squad attack in Cleveland. He and three other survivors of that attack formed a kind of nuclear family, and now, they're knocking on Russ' door, looking for a place to lie low. They promise not to chow down on the neighbors, but before long, their activities have drawn some attention.
THE LOWDOWN: Although David Lapham plays 30 Days 'til Death straight, the narrative's off-kilter mood gives this series a farcical bent. Also, the drawing style Lapham uses for this series – sort of an ersatz Daniel Clowes – shifts from Pop Art realism to bleak surrealism, depending on the moment. There's a farm house massacre sequence in which Lapham seems to mix several moods and styles into one, crazy NC-17 moment of bloody murder that in some panels is bizarrely mundane. This is the 30 Days of Night for the rest of us.
POSSIBLE AUDIENCE: Readers who want something more out of vampire fiction.
A-
Last Updated: September 6, 2021 - 08:15