30 Days of Night: 30 Days 'til Death #1
By Leroy Douresseaux
May 7, 2009 - 12:17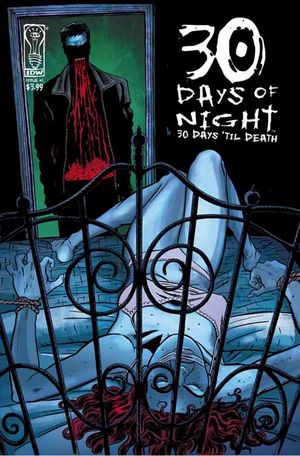 30 Days of Night: 30 Days of Death #1 cover image
The creator of cult favorite, independent comic book series, Stray Bullets, David Lapham delves into the world of 30 Days of Night with the four-issue miniseries, 30 Days of Night: 30 Days 'til Death. The edgy, sudden violence that is a signature of much of Lapham's work is here, but so is his deft touch at creating engaging characters.
30 Days of Night: 30 Days 'til Death #1 opens in Buffalo, New York and introduces Rufus Welleby, who is something of a night owl. He also has a prostitute trussed up in his bedroom, but his neighbors like him well enough to accept his offer to help their sullen, drug-dealing grandson, Max.
Meanwhile, in Cologne, Germany, the ruling cabal of vampires is unhappy with its American cousins and is especially pissed about the events depicted in the original 30 Days of Night and its sequel, Dark Days. A vampire named Olbrech has been instructed to form a death squad, which he will take to America to execute the "cowboy vampires."
THE LOWDOWN: Some first issues of comic book series (or the first issue of a story arc) are hard to fathom because much of the narrative involves introduction and subterfuge. It's more about building anticipation than telling a story at this point. The writer wants to introduce the characters, but he also wants to both create an air of mystery and to also whet readers' appetites for more. That only works if this little shadow play has enough intriguing characters and story potential to make readers care to comic back, especially when the comic book costs $3.99, as this one does.
Lapham is good, and I want to come back for more.
POSSIBLE AUDIENCE: Fans of this franchise and of David Lapham.
A-
Last Updated: March 10, 2022 - 22:00