30 Days of Night: 30 Days 'til Death #2
By Leroy Douresseaux
May 10, 2009 - 08:20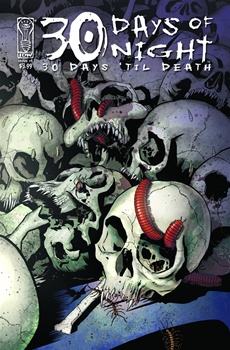 30 Days of Night: 30 Days 'til Death #2 cover image
30 Days of Night: 30 Days 'til Death #2 opens in Brooklyn, New York, presenting a flashback, which explains the dilemma of Rufus Welleby, 30 Days 'til Death's lead character. Returning to the present, Rufus is currently hiding in Buffalo, NY. Sarafina, the drug-addicted prostitute he kidnapped and had bound and gagged in his bedroom, is now his girlfriend, or at least, she thinks so.
Hiding out and playing the role of good neighbor, however, is not a good fit, and Rufus chafes under his own gag rule. But another surprise is about to make his situation even more complicated.
THE LOWDOWN: In 30 Days 'til Death, creator David Lapham's nonlinear storytelling (wherein the events of the story are told out of chronological order) gives an air of credibility to the 30 Days of Night franchise. At times, this series seems special, and then at other times, it's just another horror concept that sells itself as edgy by going over the top, in terms of both body count and gore.
Lapham's entry in this franchise is both a vampire tale and a dark urban tale. To make this more than just more violent vampire fiction, Lapham injects wit and a side of subtly delivered subversive commentary. 30 Days 'til Death is basically a crime story about a bad guy in hiding, except that this guy is a vampire and the normalcy of his hideout is a farce.
Lapham is also good with characters, whether they have large roles or small parts. Crime fiction can be such fun to read in serialized form. When done well, the reader itches with anticipation for the next installment, and Lapham is good at creating anticipation.
POSSIBLE AUDIENCE: Readers who want something more out of vampire fiction.
A-
Last Updated: September 6, 2021 - 08:15